*Gene therapy, medical tourism, illicit drugs, black-market organs, killer chimpanzees, a dying child, and a $50,000 dog at an elite private hospital in Mexico*
"REVERSION has everything I love about science thrillers: an exotic setting, a brilliant protagonist, a terrifying villain, and a story that takes readers on a wild ride across the frontiers of science. It's a fun, frightening, and memorable novel." Mark Alpert, author of Extinction
On November 10, after three long years, my next science/medical thriller novel, Reversion, will finally go on sale. If you read and enjoyed Petroplague, or if you enjoy the kinds of books I review here at ScienceThrillers.com, then Reversion is for you.
Today I'm revealing the diabolical front cover of the coming paperback and ebook edition: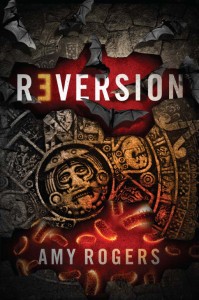 The final edition hasn't been printed yet, but I do have Advance Reader Copies (ARCs) in paperback and digital formats. I would love to share these with two faithful readers of ScienceThrillers.com, in hopes that you will read them and spread the word about this sophisticated, timely new thriller novel.
To be selected to receive an ARC (in your choice of paper or ebook) of Reversion, leave a comment telling me why you should be the one to get an early copy. In the next week, I'll choose two lucky readers!
Summary of Reversion:
Rabies kills. Can it also cure?
Tessa Price, PhD, knows what it's like to lose a child to a genetic disease. To spare another mother this pain, she invents a radical new gene therapy that might save the life of seven-year-old Gunnar Sigrunsson. Unable to get regulatory approval to treat Gunnar in the US, she takes her clinical trial to the Palacio Centro Medico, a resort-like hospital on a Mexican peninsula where rich medical tourists get experimental treatments that aren't available anywhere else.
When the hospital is taken over by a brutal drug cartel led by a man desperate for a kidney transplant, Tessa hides with a remarkable trio of Palacio clients—rich Texan Lyle Simmons, his much-younger Brazilian girlfriend, and his protection dog, a German shepherd named Dixie, only to learn that the gangsters aren't the only deadly threat they face. A rabies-like infection that began in the Palacio's research chimpanzees has spread to humans. Tessa investigates and finds a shocking connection to her gene therapy experiment. In the wake of this discovery, Tessa must weigh the value of one human life against another—including her own.
Pre-order for Kindle version available now. Other vendors and formats coming soon.