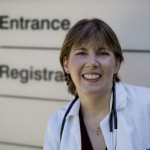 In this first author feature, I'd like to introduce you to CJ Lyons, a pediatric ER doctor turned novelist. Discovering CJ's medical/romantic thrillers was a real joy for me. Thanks to CJ for participating in this brief interview!
Q: You made your debut as a fiction writer with Lifelines in 2008. With that book, what did you hope to offer to medical thriller fans that was new or unique?
A: Lifelines represented several new and fresh aspects to the medical thriller genre. First, it was told from the point of view of the women of Angels of Mercy Medical Center. Instead of being about technology or the science of medicine, Lifelines was all about people and relationships. Second, it combined thriller-pacing with accurate and realistic medicine (both medical facts and the emotional impact) while also adding the character growth usually found in women's fiction.

Publishers Weekly called Lifelines "a breathtakingly fast-paced medical thriller," Newsday praised it for "characters with beating hearts and three dimensions," and Romance Reviews Today proclaimed it, "simply superb…riveting drama…a perfect ten."
Q: Would you like to share any feedback you've gotten from readers about the Angels of Mercy series?
A: The reader feedback for this series has been so overwhelming and wonderful that I actually created an entire page on my website for readers to leave comments. In addition to the comments on the site, with each book I've received hundreds of emails and readers are also welcome to post comments on my Facebook page.
Some of the fanmail I've received has moved me to tears. People suffering from physical or emotional pain have written to say that my characters inspired them and that my writing so pulled them into the world of Angels of Mercy that time flew by and they didn't notice their pain while reading.
After Urgent Care, the third in the series which deals with a character facing a terrible trauma from her past, many survivors of sexual assault wrote to thank me for writing Nora's story in an emotionally honest way without providing gratuitous details or glamorizing the violence. Since I've worked with so many victims of sexual and physical violence those letters meant the world to me since that was the entire reason I wrote the book: to empower while entertaining. I guess that's really why I write at all. To remind people (including myself!) that heroes are born everyday and that there's a hero in us all.
Q: You're active in both the thriller writers' community and with romance writers. What's it like bridging that gap?
A: RWA (Romance Writers of America) was the first writing organization I joined when I entered their Golden Heart contest in 2003. If it wasn't for the Golden Heart (my romantic thriller entry was a finalist; you can read it now as an e-book, Nerves of Steel
, available for Kindle) I might not be published.
As far as support, education, sharing of resources and knowledge, RWA cannot be beat–I heartily recommend that any writer striving for a career as a novelist consider joining it. Which is why I was so amazed and overjoyed when the romance readers embraced my books so whole-heartedly!
While my books do have some romantic elements in them, they aren't traditional romances, so to have romance readers cross the bookstore aisles and track them down in Mainstream Literature (yes, my fun, thriller beach reads are shelved to the left of Moby Dick, lol!!!) was wonderful!
And the thriller/suspense community has been just as fantastic–those readers have also crossed over from the mystery section of the bookstore to search out my books and I'm proud to say that so far all of the Angels of Mercy books have been finalists for the Daphne Du Maurier Award for Excellence in Mystery/Suspense with Warning Signs winning for Best Mainstream Mystery!
I'm one of the original members of International Thriller Writers and was the chair of their inaugural ThrillerFest, and I owe much of my success to the wonderful mentors that I've met through ITW. People like David Morrell and Lee Child, who both invited me to participate in anthologies they edited.
Writing is such a "loner" profession–we spend a large part of our days with imaginary characters caught up in imaginary challenges in our mind. Meeting fellow writers and booklovers is one of the most rewarding experiences of being an author.
I think this is why I'm so excited about my next two projects, since they definitely continue to bridge the gap between thriller/suspense genre and women's fiction.

Critical Condition, the finale of the Angels of Mercy series, is due out November 30, 2010 and is an adrenalin-rush of a thrill ride. So much so, that I literally had to write the book backwards! All the action takes place in "real" time, less than five hours total…think Die Hard in a hospital.
And due out March 1, 2011 is Rock Bottom, a suspense novel co-written with Erin Brockovich. Yes, THE Erin Brockovich, how cool is that??? I still have fan-girl squees of delight at the thought of it.
I loved writing both books and they should appeal to fans of thrillers, romance, and women's fiction, so my tradition of bridging genres lives on.