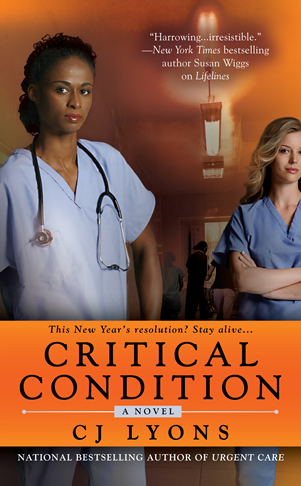 The fourth and final volume in CJ Lyons' Angels of Mercy medical thriller / romantic suspense series is now on sale.  As a fan, I have to put in a plug and tell everybody to buy Critical Condition today!
Not long ago I interviewed CJ Lyons for this site; read the interview and learn more about her and her work here.  Also, check out my reviews of the preceding books, Lifelines, Warning Signs, and Urgent Care.
These books read like the best-ever episodes of E.R.: thrilling, richly characterized, full of fascinating and accurate medical detail, plus plenty of "romance" throughout!  The books also feature a cast of strong female protagonists you'll want to meet.
CJ Lyons' next project, due in early 2011, is Rock Bottom, a novel co-written with Erin Brokovich.