Carla Buckley's chilling debut novel, a suburban flu pandemic thriller called The Things That Keep Us Here, will be released in paperback on January 25, 2011.  In honor of this imminent release, I interviewed Ms. Buckley to get the inside scoop on how she conceived the story, and how it affected her.  Part 1 of 2.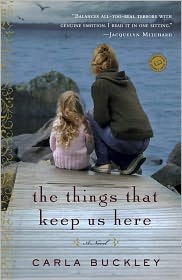 ScienceThrillers.com: In your novel The Things That Keep Us Here, a flu pandemic like the one that struck in 1918 sweeps the world.  But rather than paint the picture of a global apocalypse, you chose to tell the story from the viewpoint of one ordinary household in one Ohio suburb.  For me, this made the book absolutely terrifying.  Tell me more about what inspired you to choose this setting.
Carla Buckley: When I first conceived the idea of writing about living through a pandemic, I knew immediately that I didn't want to portray it from the perspectives of the Oval Office, Russian scientists, European armies. What drove me to write about a pandemic were my own personal fears of surviving one. That's what I wanted to talk about: what it would be like to be an average American in an average city, absolutely powerless and struggling to make the very best possible choices.
ScienceThrillers.com: You must have immersed yourself in imagining all the terrible, ordinary challenges that your characters would face as civilization broke down around them.  Did this affect you mentally, or cause you to change your habits?  For example, did you buy a gun or stock food in your basement?
Carla Buckley: Actually, throwing the worst possible circumstances at my fictional family was very therapeutic! I'm much less worried about a pandemic now than I had been before writing the book, though I admit I do have a month's supply of canned food and water, rechargeable flashlights, and first aid supplies.
ScienceThrillers.com: The main character in your book is a mother, and she is confronted with a series of agonizing choices. When you created this character, what kind of person did you think she was, and how did you decide how she would act in these difficult circumstances?
Carla Buckley: I'd been writing for years, but it wasn't until I stepped into the role I felt most comfortable–a mother–that I finally found my voice. Because Ann suffered the loss of an infant, she's driven to protect her daughters, no matter the consequences. The most controversial choice she makes sprang from a dream I had one night, a nightmare that haunted me for days and finally inspired me to write The Things That Keep Us Here.
—Click here to read Part 2–