(Part 3 in a series on choosing an electric car)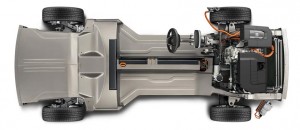 Battery Issues
Thanks to electric vehicles (EV), a new phobia is entering the lexicon: range anxiety.  Do I have enough juice to make it home?
There is a lot of confusion and ambiguity about how far you can actually go on battery power with your EV before you drain the charge.  Both Chevrolet and Nissan are hedging their estimates, giving a standard number (about 40 and 100 miles for the Volt and Leaf, respectively) that depends heavily on many variables.  In truth, the range as driven may be significantly less than that, which makes the gasoline backup generator on the Volt an especially attractive comfort feature.
Battery life / range while driving in real life is reduced by the following:
Cold temperatures decrease battery output (it's chemistry, folks; reaction speed depends on temperature)
Extremely hot temperatures
Running the heater
Running the air conditioner
Aggressive driving (rapid acceleration and braking)
Except for the first two, items in this list generally apply to gasoline-powered internal combustion engines too.  But the variability in "mileage" is much greater for EV's than for ordinary cars–leading to range anxiety. Until rapid charging stations become as widely available as gas stations, this is a problem that EV drivers will have to deal with.
Costs
Buying electricity is much different from buying gasoline.  Electricity is much, much cheaper for a comparable amount of power.  "Filling your tank" on an EV should only cost a couple of dollars, quite possibly less than the price of a single gallon of gasoline.
However, if you own an electric vehicle, you'll want to install a special 240 volt charging station in your home (using the outlets your home has for major appliances like a clothes washter/dryer), because charging through a normal 120V outlet will take forever.  This installation could set you back a couple of thousand dollars, so add that to your budget for a new EV.
If your utility prices your electricity by time of day (peak vs off-peak usage), you're in luck if you charge your car overnight, when prices are lowest.  Try that at the gas pump!
Current limits of the technology
Early adopters of EV technology–that is, anybody buying one in 2010, 2011, or 2012–should realize that they are taking a risk on batteries.  Current battery technology has a lot of room for improvement.  Problems to be overcome:
Batteries are large (take up a great deal of space inside the car)
Batteries are heavy (take a lot of energy to push around)
Batteries charge slowly (hours) and generally have less range capacity than a gas tank
Batteries are expensive and have an unknown life span
This last point, about the expected lifetime of a battery, is one of the great unknowns about buying an EV.  The current crop of batteries are expected to last at least 5 years, probably longer, but nobody really knows the true life span nor how expensive it will be to replace a battery in the future.  Be aware that this is a potential financial liability. I hear that Chevy and Nissan are offering an 8 year/100,000 mile guarantee on their batteries, which would be a good way to protect the buyer.  A Chevy dealer I spoke to mentioned they might also replace the battery if a better model is released in the first years of ownership.  Ask before you buy!
Charging Times:  How long you must plug in to "fill the tank"
Chevy Volt battery (T-shaped unit shown above in the center of the car):
16kWh lithium-ion unit
Charging time:  10-12 hours at 120V (regular outlet); 4 hours at 240V
Nissan Leaf battery:
24 kWh lithium-ion
Charging time: 7 hours at 240V
Tesla Model S battery:
Lithium-ion batteries, capacity varies with model purchase (but all greater than Volt or Leaf)
Charging time: 4 hours at 240V.  Model S will also have quick charge option, battery full in 45 minutes on 440V power.  Because you probably don't have this at home, the point of quick charge is to have a car capable of using a quick-recharge infrastructure (i.e., electric stations) that currently do not exist but might exist in the future.
U.S. Department of Energy website on EVs and other alternative fuel vehicles
Series of electric car quest posts:
Chevy Volt vs Nissan Leaf; the hot electric cars of Tesla Motors: Model S vs Roadster; EV Batteries; MSRP, incentives & leases; Chevy Volt test drive
Also: A scientist from The Nature Conservancy discusses how "green" is the battery?