(Part 2 in a series on choosing an electric car)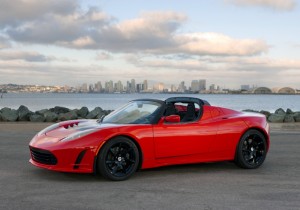 Luxury electric cars: Tesla Motors
According to the company website, Tesla Motors "was founded in 2003 by a group of intrepid Silicon Valley engineers who set out to prove that electric vehicles could be awesome."  Tesla has a celebrity CEO and co-founder, Elon Musk, who made his first fortune as one of the founders of PayPal (now owned by eBay).  They are based in Palo Alto, CA, in the neighborhood of Stanford University near San Francisco.
Tesla has style, that's for sure, and as the first all-electric car maker, and an American company to boot, they are a company to watch.
Tesla's first commercially produced vehicle is the Roadster, which has been on the market since 2008.  The Roadster (pictured above) is an option for only a very narrow niche of buyers.  (About 1500 have been sold.)  Car and Driver calls the Roadster "the Ferrari of electric vehicles".  The Roadster is simply too expensive and impractical for most people.  It's a performance car: sporty, incredibly fast, but can barely seat two people and isn't exactly comfortable.  This is the vehicle of choice for Silicon Valley millionaires.  I'm friends with one, and got to ride in his Roadster.  It drives like a go-kart on steroids.
Roadster pros:
Unbelievable acceleration (0 to 60 in 3.7 seconds)
Eye-turning good looks
Superb range (for an electric) of 245 miles
Roadster cons:
Sticker price over $100K
Seats only 2 and can't be called "comfortable"
Tiny trunk can barely hold a single set of golf clubs, much less suitcases, kid gear, or the products of a Costco run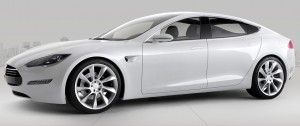 But here's what interests me.  In 2012, Tesla will begin delivery of its first sedan, the Model S.  Because Tesla is unabashedly courting the eco-conscious luxury consumer, for whom "green" is a status symbol, I expect this car to be one to covet.
Tesla Model S pros:
Battery range from 160-300 miles, depending on the model
Potential 45 minute quick charge capability if 440 volt station available (see post on batteries)
Seating for 7 (wow), five adults + two kids
0 to 60 in 5.6 seconds
A second cargo area under the hood (cool)
Top speed of 120 mph
Car will be built at the NUMMI plant in Fremont, CA, which was a joint manufacturing facility for Toyota and GM until it was shut down in April 2010.  NUMMI was the last auto manufacturing plant on the West Coast, and its closure resulted in the loss of about 1,000 jobs.  Tesla (cooperating with Toyota) will bring back many of these jobs.
Tesla Model S cons:
Expensive (from about $58,000-$80,000; see my upcoming post on financing)
Service issues:  Unlike Chevrolet, Tesla doesn't have a dealer in every town.  For the Roadster, Tesla offers mobile service (house calls) to owners for $1 per roundtrip mile distance from the nearest service center.  They claim that electric cars require much less routine service than an internal combustion engine, but this could still add up to a pricey maintenance schedule.  {See reader's comment below; EVs don't need oil changes and some other service we've grown accustomed to paying for regularly.}
Link to Tesla Motors' Tesla FAQ
Series of electric car quest posts:
Chevy Volt vs Nissan Leaf; the hot electric cars of Tesla Motors: Model S vs Roadster; EV Batteries; MSRP, incentives & leases; Chevy Volt test drive