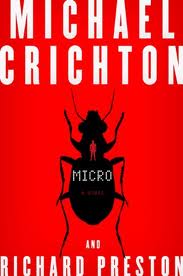 Michael Crichton, the founder of the modern science thriller, publishes from the grave. Last week, his latest novel Micro was released in hardcover, written by Richard Preston (author of The Hot Zone, five-star nonfiction science thriller) using notes left behind by Crichton when he died.
I'll post a review of Micro next week, but in the meantime, I want to offer you SciThri fans a chance to win a free copy of the new Micro hardcover.  Yes, ScienceThrillers.com is launching its first book giveaway!
Contest runs until midnight on December 18. Shipping to U.S. addresses only. To enter, subscribe to the ScienceThrillers newsletter, which will only come to your emailbox 3 or 4 times per year. See below for ways to earn more entries in the drawing. I will contact the winner for a shipping address using the email you provide in your entry.
Tell your friends! Good luck!