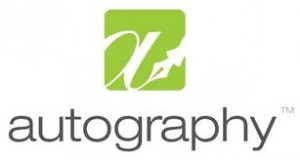 At BookExpo America in May 2011, a couple of new ebook signing services made their debut.  Both Autography and iDoLVine (part 3 of this series) are works in progress; both are in beta form (trial versions) and are undergoing refinement.  I heard live presentations about each technology at ThrillerFest in July, so I'll summarize what was said at that time.
Autography is way snazzier and way more ambitious than Kindlegraph (part 1 of this series).  It can do more than just provide a digital signature.  It's also more complicated, and as I said, it's a work in progress.  The main difference: Autography is intended to more closely replicate the book signing experience.  Using an iPad and a stylus, authors can personally sign a custom-designed page for their fan's book.  The signed page is in the author's own handwriting, and it can be automatically incorporated into the fan's e-copy.  All of this can be done in person, or remotely via streaming internet event or a call-in radio program.  Alternatively, the author can take a photo with the fan and digitally sign that instead of a standard page.
Autography advantages:
Works with all major ebook readers: Kindle, Nook, iPad, iPhone, Android devices, etc., now and in the future (Autography registry will store customer pages and transfer them if customer upgrades or changes device).
Signature and message are in author's own handwriting
Signature pages can be customized (for example, to fit a specific book signing event), instead of only offering the book cover itself as the background.
Can take a fan/author photo at an event, sign that instead, and email it to the fan (using an iPad).
Autographed page or photo can be easily exported to Facebook or Twitter.
Both in-person and remote signings.
Author can sign a free sample chapter for a potential customer.  Later, customer can purchase the full book and it will automatically be packaged with the signed page.
Autography limitations:
Customer MUST purchase the ebook from the Autography bookstore

.  If they already own the ebook (purchased, for example, from amazon or B&N) then they can't get an Autography signed digital page.  Autography's bookstore will work on the agency model and like amazon, take a 30% commission (which effectively means it is FREE for authors and readers).  This, plus advertising, is how the company plans to make money.  But the whole business model seems to be evolving as I write this, and I can't find a live Autography bookstore online yet.  Requiring customers to buy from this store could be enough of a barrier to discourage purchase.
Author must own an iPad.  This may change, but currently the iPad is used to do the signing (using a stylus) and/or to take a photo with the fan
What's not clear:
To whom does the customer give his email address?  The author, or Autography?
New York Times article about Autography and its founder, author T.J. Waters
Ebook signing technology series:
Part 1: Kindlegraph; Part 2: Autography; Part 3: iDolVine; Part 4: Nook Color; Part 5: MyWrite & BookieJar