Part 2 of my interview with debut novelist Carla Buckley about her book The Things That Keep Us Here.   To read part one, click here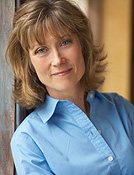 ScienceThrillers.com: What projects are you working on now?
Carla Buckley: My next novel, Invisible, is slated for publication in early 2012. It's about a woman who returns home after a long absence, for her older sister's funeral. What she discovers is a family in turmoil, an invisible threat to a town's safety (a scientific threat that I predict will be making headlines shortly), and the answer to her own identity.
ScienceThrillers.com: Can you recommend any science-themed thriller titles or authors that you enjoy reading?
Carla Buckley: I recently read The Last Town on Earth by Thomas Mullen, a story set in the 1918 Pandemic about a small American town that tries to take a stand against the flu pandemic. Like my story, it's also acutely focused on one small group of people and the terrible choices they make when the very worst happens. Another book I thoroughly enjoyed was The Passage by Justin Cronin, the first in a trilogy about a vampire-like species that takes over the world. Although it is more paranormal than science-based, it's beautifully written and packed with suspense.