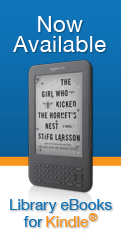 I'm so excited…
Today amazon launched its library lending service for ebooks.
11,000 public libraries which use OverDrive's software will now lend Kindle ebooks to library card holders.  Check out books without even leaving home!
Lending will be done through your library's website, so go there to see if your library is participating.  Or, search for a participating library at overdrive.
Examples of libraries where you can now borrow Kindle ebooks:
Sacramento Public Library (my local!  Yippee!)
County of Los Angeles Library
Seattle Public Library
New York Public Library
St. Louis Public Library
Chicago Public Library
Atlanta-Fulton Public Library System
Denver Public Library
Austin Public Library
Traverse de Sioux Library System (which covers my rural home town New Ulm, Minnesota!)
and of course many, many more.
Now I have to get my novel PETROPLAGUE into some of those systems…Any ideas?