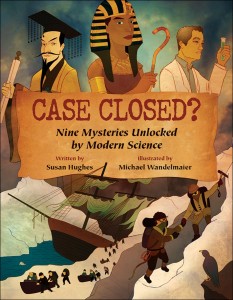 I heard about this book when the National Science Teachers Association published their annual list of recommended titles.  I bought a copy and RECOMMEND this book for 9-14 year olds.
Case Closed? by Susan Hughes (illustrated by Michael Wandelmaier) is a clever dressing up of mysteries kids will love, all of which have been "unlocked by modern science."  A lost city, a sunken submarine, a missing airplane, an unidentified mummy, a murdered princess, an Arctic expedition–you'll find all this and more, true stories, told in a decidedly NOT boring narrative style more like a thriller novel than a textbook.
Each mystery comes with a lead page enticing the reader to learn more about the modern-day scientists and adventurers investigating the tale.  This is followed by historic background, unanswered questions, and a "Case Open" section in which the nuts-and-bolts of the investigation are laid out.  You'll read about CT scans, deep-tow sonar, DNA identity testing, hair sample analysis, dendrochronology, computer modeling in archeology, and satellite mapping of ancient riverbeds.
Plenty of illustrations and sideboxes for extra info are provided, and each mystery ends with additional questions to ponder.
Great book to read out loud to your kids, in the library, classroom or home.
Chapter titles: Hatshepsut, Hsu Fu, City of Ubar, Anasazi, Sir John Franklin, Anastasia, George L. Mallory, Star Dust, INS Dakar