Part 2 in an ongoing series of posts about science, technology, engineering, and math (STEM) contests and competitions for kids.  To read all such posts, use the "Previous Posts" box in the right sidebar; "Select category" Science education: STEM contests.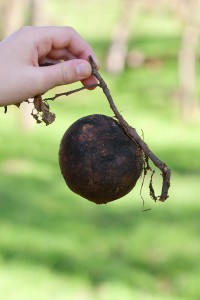 Nature Bowl is an ecology-themed science competition.  It's a unique opportunity for kids in grades 3-6 who live in the "Sacramento Valley," a region of the northern Central Valley of California that includes Sacramento, areas west of Davis, the foothills area (Auburn, Placerville, etc.)  and extends north/south pretty much from Redding to Lodi (or even Stockton).  Over 25 years ago, dedicated naturalist Bruce Forman of the California Department of Fish and Game invented Nature Bowl from scratch.  In the years since, he has changed the lives of countless elementary school kids and deserves an award for being a warrior against nature-deficit disorder
.
The competition: a one-day semifinals event at a regional nature center in March or early April.  Top 2 or 3 teams at each regional event advance to the finals at Sacramento State University in May, but the competitive aspect of the event is de-emphasized in favor of fun and learning.
Age: 3rd/4th grade division and 5th/6th grade division
Who: teams of up to 6 or 7 competitors can represent their school or a civic group such as scouts.  Coaches can be teachers or volunteers.  (I'm a parent and I've coached for three years.)
What:  The Nature Bowl curriculum focuses on the habitats and ecology of the Sacramento Valley.  Habitats include aquatic, oak woodland, wetlands, vernal pools, grasslands, urban, chaparral, riparian.  Topics include conservation/recycling/pollution issues, food webs, watersheds, native animals and plants, etc.
How: My teams emphasize field trips into nature as the best way for the kids to learn their local natural world.  We visit the Nimbus Hatchery on the American River while the Chinook salmon are running (November), and we hike along various rivers, visit migratory bird sites, the amazing vernal pools at Mather field during the wet phase (March), and the California Raptor Center.  Classroom instruction once a week is also part of the program.  Kids prepare a one minute oral presentation on an environmental issue of LOCAL significance and are encouraged to take some kind of action to address the problem.
Register now and attend a coaches' orientation workshop on December 7th, or in January.
I'm a huge fan of this program because so few kids get outside and learn about the natural world in their own communities.  They can name more species native to Africa than species that are native in their home town.
If you know of similar programs elsewhere in the country, please leave a comment.