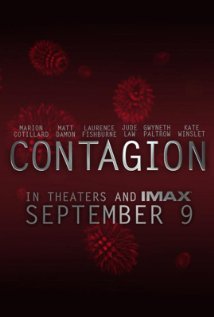 Did you think the killer virus story was dead?  Repeated so many times, in so many ways, that no one would invest in a big-budget movie about another plague or pandemic?
Think again.  A trailer has just been released for a new science thriller movie CONTAGION which will be in theaters in September.  It features an all-star cast (Lawrence Fishburne, Sanaa Lathan, Matt Damon, John Hawkes, Kate Winslet, Jennifer Ehle, Bryan Cranston, Marion Cotillard, Jude Law, Gwyneth Paltrow, Elliott Gould; directed by Steven Soderbergh) and is generating a lot of buzz.
We science/medical thriller fans know that plagues and pandemics are about the scariest thing out there because they are truly possible, even likely.  Stories about the terror and gore of a great killer germ have been the stuff of popular literature at least since Daniel Defoe published his fictionalized Journal of the Plague Year in 1722.  CONTAGION's success will depend not on its tried-and-true subject material, but whether or not they made a good movie.
(By the way, killer virus stories tend to fall in one of two categories: the apocalyptic virus tale, in which the virus rampages and the story revolves around survival; and the ticking clock virus tale, in which a world-changing epidemic is threatened, imminent, or in its early stages and the heroes must stop it in its tracks.  From the trailer, CONTAGION looks to be more of the former.)
If you plan to see CONTAGION, you should read:
The Things that Keep Us Here by Carla Buckley
Thanks for the tip, Vati!