Okay, so it's not Tuesday quite yet.  But I can't wait to introduce you to Cindy Doran, a pharmacist, writer, and advocate for scientific literacy.  Using her web identity The Febrile Muse, Cindy blogs, tweets, and contributes to Scientific American online.  She has a special interest in infectious diseases–a hot topic at the moment with the release of the movie Contagion–and works to further both kids' and adults' understanding of infectious disease through literature, history, art, and contemporary science journalism.  Recently, she wrote a "fairy tale" about fungi ("Tinea speaks up") that is based on actual folk/fairy tales.
I was delighted to discover a like-minded believer in how creative writing can be used to advance science education (though my special arena is "trashy" genre fiction).  With Cindy's permission, today and tomorrow I'm going to re-post some book recommendations she posted last January.
First up: Infectious disease picture books for little kids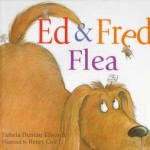 Ed & Fred Flea by Pamela Duncan Edwards.  Fred, the bad flea fakes having the flu.  His brother Ed and a tick jump for their lives [and not because of Fred].
One Cow Coughs:  a Counting Book for the Sick and Miserable, by Christine Loomis.  Cows do cough, and by using collage, Ms. Loomis shows you the animals and how sick they are and what they do to get better.  Methinks that Frank McCourt wrote the title [not really, but it sounds like his Irish humor].

Who's Sick today? By Lynne Cherry.  Rhymes about beavers with fevers and chicken with pox [even the eggs have pox].  Okay, it's not truly accurate portrayal, but it's fun.
The Sick Day, by Patricia Maclachlan and Illustrated by Jane Dyer.  In a fun way, it shows that fever and illness can spread…even to Daddy.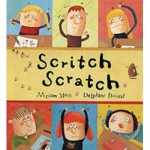 Scritch, Scratch, by Miriam Moss and Illustrated by Delphine Duran. The science is very inaccurate in this book, but the art of the book won me over!  Ms. Calyspo is cute, even if the lunch and hair washing with the principal is a tad creepy. You don't have to point out the modern-day implications of this to your kids.
Germs Make Me Sick! By Melvin Berger.  The artwork is okay, but in a simple way it explains contagion and good hand washing.
Tomorrow: More recommendations from The Febrile Muse, including books for older kids