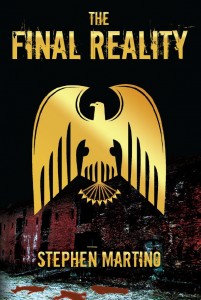 Enter to win a signed paperback of new indie release The Final Reality by Steve Martino (2012). Indie science/medical thriller with political themes.
What makes one person smarter, faster or even more athletic than another? Is it their upbringing or is the answer hidden within millions of years of genetic evolution. What if mankind found the answer and in the process, doomed humanity to extinction?
Focusing on both our current politically charged environment and world-wide economic crisis, The Final Reality follows Alex Pella on a tumultuous journey that projects a potential path of human existence in the 21st century. After a virus hidden within our genetic code inadvertently gets released upon the planet, no country is financially prepared to deal with such a disaster. Only the brilliant neuroscientist, Alex Pella, and his intellectual equal, Marissa Ambrosia, have the audacity to attempt finding a cure while simultaneously fending off mercenaries sent by a fascist dictator, proclaiming to be the anointed one. Guided by an ancient code concealed within the Old Testament, they must traverse ancient lands and solve an age-old biblical riddle to save mankind from its own inevitable destruction.