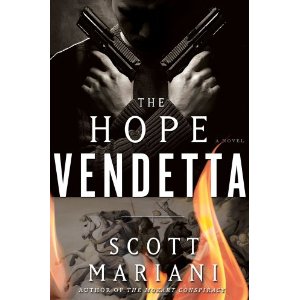 I'm giving away a hot-off-the-press (release date March 6, 2012) religion/terrorism thriller The Hope Vendetta in the Ben Hope series by Scott Mariani (sequel to The Mozart Conspiracy.)
You'll win a brand-new hardcover in the very first month this book is on sale!  Here's the summary:
A DEADLY CONSPIRACY. AN ANCIENT PROPHECY. A RACE TO STOP AN ATTACK OF BIBLICAL PROPORTIONS.

Still reeling from a devastating personal loss, ex-SAS operative and hero for hire Ben Hope has decided to put down his gun for good and return to the theology studies he had abandoned years ago. When his professor and friend asks him to help find his missing daughter, archaeologist Zoë Bradbury, Ben declines but puts his former SAS buddy Charlie Palmer on the case. But when Charlie runs into trouble on the Greek island of Corfu, Ben reluctantly joins him to find out what might have happened to Zoë. Ben has no idea he's just embarked on the most dangerous mission of his life.

Ben realizes that Zoë's most recent archaeological discovery of an artifact related to the book of Revelation is at the heart of her dis-appearance. What is the ancient secret that Zoë uncovered? And just who is willing to do anything to protect it? The investigation leads Ben from the Greek islands to Savannah, Georgia, to the holy city of Jerusalem, and he soon discovers that it's not just Zoë's life on the line but those of millions. Yet those hell-bent on staging an end-of-days–like attack for political gain will soon face the ultimate reckoning in Ben Hope.
Enter the ScienceThrillers giveaway raffle to win a FREE copy of Scott Mariani's new hardcover!

a Rafflecopter giveaway