Part of a continuing series here at ScienceThrillers where I put the spotlight on new authors who are part of International Thriller Writers' Debut Class.
Today's post (part 1 of 2) is a real treat because this ITW Debut Author has penned a science thriller–with bio/molecular/microbio themes dear to my heart!
The Calypso Directive by Brian Andrews was released on April Fool's Day, but the central question of Brian's new book is no joke: what would you do if your genome was stolen? 
Brian has generously offered to give away an autographed copy of his hot-off-the-press hardcover thriller novel. Enter at the end of this post.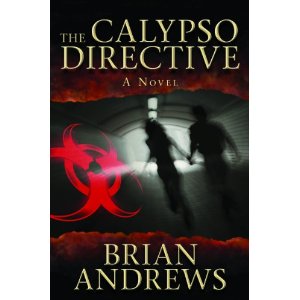 For one hundred and fifty-five days, Will Foster has been locked in medical quarantine without his consent. The doctors claim he is infected with a deadly virus, but this is a lie. Encoded in his DNA is a mutation that provides immunity from disease for all who possess it, source code that Vyrogen Pharmaceuticals aims to commercialize as a multi-billion dollar gene therapy. Against all odds, Foster escapes his laboratory prison and steals a virulent strain of bubonic plague as insurance. To help him unravel the mystery inside him, Foster contacts the only person he can trust—a former lover and microbiologist living Vienna—and the two become fugitives, hunted across the heart of Europe.
Check out the stylish book trailer for The Calypso Directive:

Enter to win a FREE autographed hardcover of The Calypso Directive (U.S. addresses only)