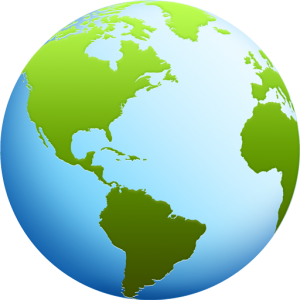 A revelation came to me today.  The world is smaller than I thought.
I'm pretty tech-savvy and well-traveled.  I know a bit about globalization, I know that English is a world language, and I know that the Internet is ubiquitous.
What I didn't know is that about half of you, my website visitors, are clicking in from outside the United States.
I made this discovery courtesy of Google Analytics, which I use to monitor traffic on ScienceThrillers.  Google Analytics provides a ton of data minutiae, practically everything except the visitors' names.  I had never bothered to look at most of these data slices, but today I wanted to know if the ads I'm paying for through Google AdWords were doing me any good.  And I wanted to know who was coming to my website.
To my absolute amazement and delight, you fans of SciThri are a diverse bunch.
In the month of January to date (21st), ScienceThrillers.com has been visited by 1,100 new visitors (I'm going to ignore the repeat customers for now, but please know I LOVE YOU!!). You are from 75 different countries. Yes, 75. Only 682 of you readers, little more than half, are my countrymen in the U.S. My Canadian neighbors came next, with 67 visitors, followed by the UK (63), India (32), Philippines (29), Australia (14), Germany (14), Indonesia (16), Pakistan (13), Mexico (13), Turkey (10), and then a whole slew of countries with fewer than ten visitors each.
The top countries for visitors spending time exploring the site are Belgium, Venezuela, Singapore, Turkey, Spain, and Trinidad and Tobago (one visitor–you know who you are!).
Honestly this gives me a whole new perspective on what I'm doing here at ScienceThrillers. I had no idea my audience was so international. It's quite exciting to think that there are science-minded fiction fans all over the world, and we can come together here and share great books.  The fact that ebooks and print-on-demand publishing have made those great books available globally helps us all.  (I know my science thriller Petroplague is for sale in at least a dozen countries.)
So wherever you are, welcome to ScienceThrillers!  If you have something to contribute to the conversation, please leave a comment.  And everyone is always welcome to contact me directly by email.