As promised, here is the first in my series of spotlight features on International Thriller Writers debut novelists. Today's featured author: Anthony J. Franze, legal scholar and Supreme Court insider.  His legal thriller The Last Justice
 will be released in hardcover on February 7th.  But if you'd like to win a paperback signed by the author, enter the book giveaway raffle at the end of this blog post!
———-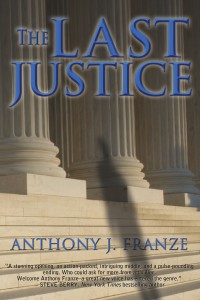 In the latest edition of the Big Thrill Magazine, Anthony J. Franze, one of my fellow Debut Authors from the International Thriller Writers association, received a fantastic review of his new legal thriller, The Last Justice.  Reviewer (and now fan) Derek Gunn called the book reminiscent of "early Robert Ludlum."
Anthony Franze is a Supreme Court lawyer at a Washington, D.C. law firm and his novel centers around an unthinkable crime — the mass murder of six Supreme Court justices.  The book already has received praise from bestselling authors such as Steve Berry and Philip Margolin. Here's some of what advance readers are saying about The Last Justice:
"Bristling with fascinating insider details, The Last Justice by Anthony J. Franze is a rare legal thriller—authentic, exciting, and beautifully written.  From little-seen Supreme Court chambers to elite boardrooms and darkened bedrooms, you'll be swept along on a tidal wave of suspense.  Watch out, John Grisham—Franze has arrived, and he's damn good!"  GAYLE LYNDS, New York Times bestselling author of The Book of Spies
"The Last Justice grabs you by the throat with a killer opening scene in the United States Supreme Court you won't forget and doesn't let you go until the startling finish.  Anthony Franze has crafted an intelligent, high-octane thriller that will keep you up late and guessing until the very end.  When I turned the final page I immediately wanted more."  ROBERT DUGONI, New York Times bestselling author of Murder One
Learn more about Anthony Franze and the book at his website. And enter the giveaway below just by signing up for Franze's newsletter!