Part of a continuing series here at ScienceThrillers where I put the spotlight on new authors who are part of International Thriller Writers' Debut Class.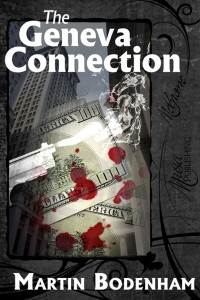 Today's featured author: Martin Bodenham, British expert in the private equity business, now thriller writer. His financial thriller The Geneva Connection stars character John Kent.

Here's an "interview" with the fictional Mr. Kent.
Q: Thank you for coming to chat with us today. Why do you think Martin Bodenham chose you to represent him?
It's pretty obvious, really. While he has been in the UK private equity market for many years, his track record is nowhere near as strong as mine. In fact, no one comes close. When I set up my own private equity firm, CBC in Cambridge, ten years ago, I had investors lining up to come into my new fund. They knew I was a money maker. My first fund broke all the records. Now we're raking in £300 million in management fees every year from our investors.
Q: Tell us a little about yourself.
Well, I'm forty-eight, but I know what you're thinking. He doesn't look it, right? That's because I work out every day. I built a private gym in the west wing of my Rutland country estate some years back. Best thing I ever did. The estate is about thirty miles away from the office, which is in Cambridge, on the Science Park just north of the city. I went to university there many years ago and fell in love with the limestone architecture. Also met my wife, Sarah, there. She's a psychologist. Most of my competitors are based in London, but they're a bunch of herd animals. I wanted to be different.
Q: What do you wish people knew about you?
A lot of people just see the money, the flash car and the big house. What they don't see is the hard work that went into getting it all. I don't let where I started hold me back. I started out with nothing. My mother was divorced and brought me up on her own in social housing. I know what it's like to have to worry where the next meal is coming from. I never want to live like that again.
Q: Why should the readers be interested in your story?
It's fair to say the financial crisis threw up a lot of investment opportunities for my firm. Desperate companies, badly in need of cash, are not best placed to negotiate great terms. We were having a great recession until our main investor failed. None of us saw that coming. I'm not proud of the mess we ran into in our attempts to find new investors. How did I know we were going to end up being bankrolled by a Mexican drug cartel?
Q: Did you go to the authorities?
No. I discovered our new investors were laundering drug money through our firm only when it was too late. They had plenty of information to blackmail me with, and to guarantee my silence they killed one of my partners. The trouble is now I've been approached by the head of the DEA's investigations unit. He's threatening to lock me away for the rest of my life if I don't help him by providing evidence against my criminal investors. What would you do? Either the cartel is going to kill me or I end up in prison? Even if I go to prison, would the cartel risk leaving me there with all I know?
___________
Martin Bodenham, author of The Geneva Connection, says: I was born in Leicester, England in 1959 to an American father, who worked in the US Air Force, and a British mother. I was educated at the Duke of York's Royal Military School in Kent (a military academy) and at the University of Leicester, where I read economics.
After university, I trained as a chartered accountant, working in the UK and USA. I have spent the last twenty-five years in private equity, working either as an investor or advisor. Today, I am the CEO of Advantage Capital, a London-based private equity firm. Along the way, I have been an investor at investment banks, 3i and Close Brothers, and a corporate finance partner at both KPMG and Ernst & Young.
I am married to Jules, a psychotherapist, and we live in Rutland, England's smallest county. I have wanted to write for a very long time, but running a private equity business is full on. Recently, I have started to reduce my ridiculous working hours to concentrate on a few other things in life. Writing is at the top of that list.
I write financial thrillers, which means my stories are set against the backdrop of the international financial markets, an environment in which I have spent my entire business career. I hope this gives my work an authentic feeling. For the moment, the greed and fear I see in the world of finance provide enough material for my future thriller novels.
For more information, please visit: www.martinbodenham.com