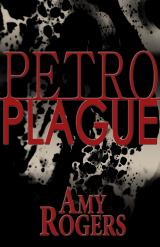 Ebook price reduced! Petroplague by Amy Rogers is now only $2.99 in all digital formats from your favorite retailer.
Who should read Petroplague?
Michael Crichton fans
Readers who like fact-based science in their fiction
People familiar with Los Angeles
Anyone who's visited the La Brea Tar Pits
Science teachers
People in the oil industry & people with an interest in alternative energy, especially biofuels
Microbiologists, biology majors, scientists, doctors
Science thriller fans!
Give Petroplague as an inexpensive gift to anyone in these categories through Smashwords (Smashwords is the best choice if you don't know what kind of ereader they use; all file formats offered, including for iPad & iPhone), amazon (Kindle or Kindle Fire), or Barnes & Noble (Nook).
Read what the critics are saying about Petroplague.
What if bacteria turned all the gasoline in Los Angeles into vinegar?
Carmageddon doesn't begin to describe it.
PETROPLAGUE does.
SUMMARY:
Christina González expected her research to change the world.
But not like this.
UCLA graduate student Christina Gonzalez wanted to use biotechnology to free America from its dependence on Middle Eastern oil. Instead, an act of eco-terrorism unleashes her genetically-modified bacteria into the fuel supply of Los Angeles, turning gasoline into vinegar.
With the city paralyzed and slipping toward anarchy, Christina must find a way to rein in the microscopic monster she created. But not everyone wants to cure the petroplague—and some will do whatever it takes to spread it.
From the La Brea Tar Pits to university laboratories to the wilds of the Angeles National Forest, Christina and her cousin River struggle against enemies seen and unseen to stop the infection before it's too late.
Set in the mountain-ringed Los Angeles basin, this terrifyingly plausible science thriller about good intentions, unexpected consequences, Peak Oil, climate change, experimental biofuels, and the astonishing power of microorganisms will give you pause every time you fill up your car.