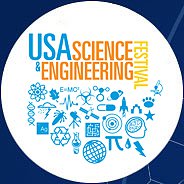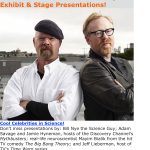 I can't begin to tell you everything that is wonderful and important about the 2nd annual USA Science and Engineering Festival, to be held April 28-29, 2012 in Washington, DC.
What I can tell you about this science expo and book fair:
It's the largest event of its kind in the United States
It will feature appearances by science celebs Adam Savage & Jamie Hyneman from Mythbusters, Bill Nye the Science Guy, and Mayim Bialik from the Big Bang Theory
There will be books & authors, including Carl Zimmer (Science Ink: Tattoos of the Science Obsessed), Julie Chibbaro (Deadly), and many more
Science standup. Yes, comedy. And yes, it will be very, very funny
Meet the Scientist or Engineer, featuring some of America's most engaging intellectuals
Solving Medical Mysteries by the Am. Soc. for Clinical Lab Science
The Science of Illusion by maestro Apollo Robbins
The Physics of Hollywood Movies by Adam Weiner
Meet & greet scientists from the past: Orville Wright, Marie Curie, George Washington Carver!
Adventures in Storm Chasing
…and 3,000 hands on science & engineering activities for all ages
Not convinced? Glance at this program listing and you will be.
I so wish I were within a few hundred miles of this event. Hope to make it next year. Would you all please go in my place? And be sure to take a kid with you as your contribution to developing the next generation of STEM leaders.