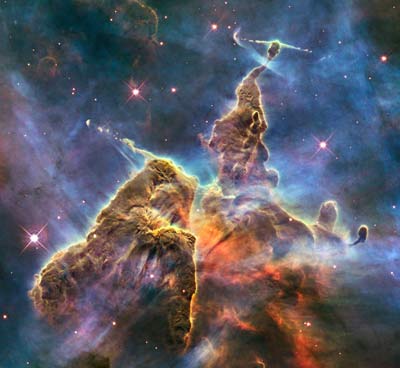 HubbleSite.org is the coolest space science website ever: visually stunning, educationally rich.
First, it offers an outrageous, truly out-of-this-world collection of images from the Hubble telescope–hundreds and hundreds of them.  Get wallpaper for your computer that will make people gasp with wonder.  Want something a little bigger?  HubbleSite offers (free) image files for wall-size murals; you just have to get them printed.
But the site has more than just pretty pictures.  Take some time and watch dozens of short videos about the Hubble telescope, about space and the universe.  Visit the Hubble Discoveries page and learn about dark energy, cosmology, the origin of planets, and more.  Still craving more information?  Try the Explore Astronomy page.
Teachers and science educators, they've got a page devoted to resources for you, too, although I think the entire site is quite accessible and totally educational.
My family discovered HubbleSite and got sucked in for an hour of learning–and some screens around here now display exotic images from deep space.  Highly recommend!