An electrical engineer as a sleuth!
Today ScienceThrillers has invited author Bernadette Pajer to introduce her wonderful historical science mysteries set in Seattle at the turn of the (20th) century, in the time of Edison and Tesla. The star of her series is Benjamin Bradshaw, professor at the University of Washington in the new field of electrical engineering. The Professor Bradshaw mysteries are a unique combination of mystery and the history of science.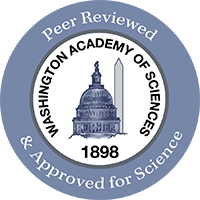 The science is real, too: Pajer's books have passed peer review by the Washington Academy of Sciences to earn the Academy's new Seal of Approval for Science. (Hey, I like that!)
The first book in the series, A Spark of Death
, features the electrical invention that has had the most impact, Tesla's famous coil. In the second, Fatal Induction
, Bradshaw explores telephonic and loudspeaker innovations, along with pharmaceutical and patent medicine drugs. The newest in the series, Capacity for Murder,
has the professor investigating an electrotherapeutic crime scene in an isolated sanitarium.
Like the sound of it? Enter to win a copy of Capacity for Murder courtesy of the author!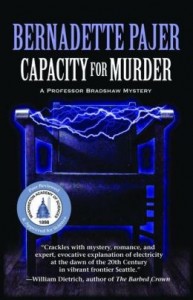 a Rafflecopter giveaway of CAPACITY FOR MURDER

******
Guest post by Bernadette Pajer,
author of the Professor Bradshaw mysteries
I was six years old in 1969 when Neil Armstrong stepped from the lunar module onto the surface of the moon. My family had a big black-and-white television set with rabbit ears antenna, and I knew that whenever a rocket was launched into space, I was experiencing a part of history because grownups were telling me so, but I easily accepted the amazing events. Along with Star Trek and Lost in Space, real astronauts were part of the world I knew. To be honest, I was more impressed with the TV repairman who kept his tools in his wooden leg and visited frequently to get our persnickety set to work.

I grew up in the age of Apollo and the magic of Disney, which instilled in me the belief that anything was possible. But the world I accepted without question was brand new, in the scheme of things. Just sixty-seven years prior to the moon walk, the streets of my hometown of Seattle were filled with horses and wagons. Few people owned a telephone or had electric lighting, even fewer owned a contraption called an automobile. The Wright Brothers had not yet had a successful powered flight, and the only sounds transmitted wirelessly were the dots and dashes of telegraphs. Food was stored in ice boxes, meals cooked on coal stoves. Women wore corsets, men wore suits, and boys wore knickerbockers. How did that world become one filled with rocket ships, televisions, and my momma in go-go boots? In just six decades?

As a writer, I have great fun exploring that question. I've learned that simmering beneath all that old-fashioned lifestyle was a no holds barred competitive enthusiasm as powerful as electricity, the new energy fueling it. Thomas Edison, Nikola Tesla, Guglielmo Marconi, Lee De Forest, and many others were alive and well in 1901, racing to be the first to discover the next best thing. As a child I may have taken for granted the amazing inventions and achievements surrounding me, but as an adult, I am in awe, and it's with childish delight I delve into history, read old newspapers and electrical and scientific journals, study old photographs and haunt university and museum libraries in search of details to bring my Professor Bradshaw mysteries to life. Through my research, and through my sleuth, a professor of electrical engineering at the University of Washington at the dawn of the twentieth century, I get to go back in time and experience history in action.
If you like the Professor Bradshaw mysteries, you might enjoy:
the Ethan Gage series by William Dietrich; The Technologists by Matthew Pearl