It's been a while since I gave away some of my own work.
Now is your chance to win a new, signed hardcover of my science thriller Petroplague, a "compellingly written, technically literate" thriller that's "in the top five on my best of 2011 list" according to reviewers. All you need to enter is an email address. You'll get the fabulous ScienceThrillers newsletter only 4 times per year. And once you're a subscriber, you can enter all my future giveaways, too.
In Los Angeles, the car is king.  What if a villain too small to see took it away–forever?  UCLA graduate student Christina Gonzalez can't let this happen, but is the damage already done?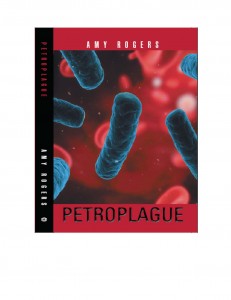 ScienceThrillers is pleased to offer a raffle of a hardcover copy of Petroplague, signed by author Amy Rogers, MD/PhD.
Earn additional entries by tweeting and Facebooking about the giveaway and the book.
Don't want to wait?  Order Petroplague copies personally signed by the author at the lowest price anywhere by using the PayPal "Buy signed copy" button at the right side of this page.
Read what critics are saying about Petroplague: