This month's roundup of newly-released, or new to me, indie science & medical thrillers.  These books are among the many I don't have time to read and review, but genre fans might enjoy.
If you are an author or publicist and would like your book listed, contact me with title, author, release date, weblinks, and summary. Only books with scientific or medical themes or characters will be included. Ask me about hosting a giveaway raffle on your behalf (paper books only).
SciThri New (or new to me) Releases:
(Bonus this month: BOOK GIVEAWAY RAFFLES! Enter to win)
**********
Not For Profit (The Dr. Scott James Thriller Series)
by Glenn Shepard (2013). Indie medical thriller. Enter giveaway below to win paperback.
A prominent surgeon accused of murder and terrorism…

A corrupt healthcare administrator hell-bent on bloody revenge…

A mysterious seductress whose secrets could free the doctor and kill thousands…

A terrorist cell with missiles aimed at a leading hospital in America's Bible Belt…

Renowned plastic surgeon Dr. Scott James is charged with murder after two bodies are found at his surgery center. Just weeks before the start of his capital murder trial, Dr. James is approached by a beautiful woman claiming she can help him gain information that would prove his innocence.

As James hunts down the evidence that might free him, he faces a barrage of threats to his life and liberty–and makes one chilling discovery after another: Corporate corruption. A conspiracy to frame him for murder and for terrorist acts. A secret drone-control operation that takes out targets in Afghanistan and Pakistan. The true identity and intent of his beautiful ally. And a plot to blow up the local hospital and surrounding community.
Tornado Pinball (Storm Seekers Series)
by Chris Kridler. (2013) Indie thriller about storm chasers. Enter giveaway below to win paperback.
Just when TV shows about storm chasing can't get any more extreme, along comes a production company with the ultimate exploit: the Bubble, a manned tornado probe. As the reluctant consultant, expert storm chaser Jack Andreas must get the show's nervous star, failed tour operator Brad Treat, into a twister. But Jack is losing his customary cool as a comedy of errors unfolds. Distracting him is co-star Saffire, a Hollywood actress who is more than she seems, and producer Wynda, who will do anything to make her documentary succeed. The daring star of another show pursues them, desperate for a shot with his own flying machine. As the disasters mount, will Jack be able to launch their device into a tornado? In this second Storm Seekers novel — the sequel to FUNNEL VISION — TORNADO PINBALL delivers an unforgettable adventure with action, humor, romance and stunning storms.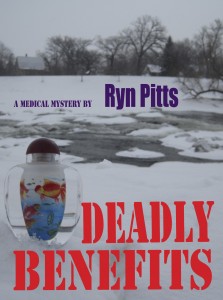 Deadly Benefits by Ryn Pitts (May 2013). Indie medical thriller.
A young patient dies unexpectedly in a Fargo hospital and the medical center goes into a defensive tailspin. How will the death be explained? Heli Harri, a savvy pharmacist and headstrong Finn, is accused of a fatal medication error while chief resident Sandeep Venkata puzzles over a strange blood culture. Senior physician Mark Lavelle denounces the death as another breakdown in hospital safety while concealing his deceptive referral practices tied to the case. When the trail of evidence leads to chilling murder, the motives of those encircling the bedside come under greater scrutiny, revealing the best and worst of those to whom we entrust our health and our lives.
Broken Paradigm
by Steve Green (2013). Indie science thriller.
A GEOLOGY STUDENT STUMBLES ONTO A PLOT TO CONTROL HUMAN EVOLUTION

Geology student David Lambert becomes unwittingly involved in a clandestine conspiracy following the discovery of soft tissue in a dinosaur bone. Enduring scathing criticism of their findings, David's mentor Dr. Marcia Shelly pairs him with an alluring journalist to investigate the black-listing of scientists who buck the evolution paradigm. With BBC reporter Murphy Salas, David learns that researchers have been discredited, even murdered to keep evidence that challenges Darwinism out of the public eye. As the scheme unfolds, they find that concealing such evidence is just the tip of the iceberg. Biotechnology that alters human DNA is being deployed for a horrendous purpose. David Lambert unites with an improbable team that faces mortal danger as they attempt to expose the menacing plot and prevent the genocide of the planet's most vulnerable citizens. David also discovers the shocking truth about Murphy Salas and Marcia Shelly, and his world is forever changed.
**********
Do you enjoy thrillers with real science? Read Petroplague by Dr. Amy Rogers.
Oil-eating bacteria contaminate the fuel supply of Los Angeles and paralyze the city.
"Compellingly written, technically literate"
"top 5 on my best of 2011 list"
"the science is utterly believable"
"I couldn't put this one down"