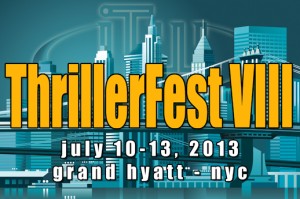 Attention all fans and writers (both beginners and pros) of the thriller genre: the biggest event of the year is nigh!
Next week, hundreds of supporters of thriller writing from all aspects of the business and fandom will gather at the Grand Hyatt in New York City for ThrillerFest VIII. The convention hotel is next door to Grand Central Station, making it easy for people all over New England to get to. I'll be traveling all the way from California to be there. If you live within a hundred miles or more, you should come too.
From big-name authors like Anne Rice, R.L. Stine, Michael Palmer, Michael Connelly, and Steve Berry, to many of the authors reviewed here at ScienceThrillers, to no-name newbie writers like me (Amy Rogers), the Hyatt will be swarming with smart, interesting, creative people who are eager to talk to fans at the bar late into the night.
Highlight of the week is the Thriller Awards banquet on Saturday night, the Academy Awards of the thriller genre.
If you're a writer and you don't have a lot of experience yet, you simply must attend CraftFest, a day and a half long event starting on Wednesday that is all about teaching the craft of thriller writing. You won't find an event with this kind of focus anywhere else.
To see the full schedule of events, click here: ThrillerFest; CraftFest. (That's me on a panel Saturday morning at 10:30.)
Come and meet your favorite authors in person! Live book signings galore in the ThrillerFest bookstore.
If you can't make it, follow my Twitter feed (@ScienceThriller). I'll be tweeting the meeting with writing tips from CraftFest and insider comments from author panels. Or follow competing hashtags #TF2013  #thriller13