Today at ScienceThrillers.com, I offer you a guest post on a "blog tour" by author Nicole Wolverton, who discusses her new psychological thriller centered on the U.S. space program.

Post by Nicole Wolverton
It's tricky to write a novel from the point of view of an unreliable narrator and still maintain a basic backbone of accurate information. What do you exaggerate, and when do you stick to the facts? Lela White, the main character of my novel THE TRAJECTORY OF DREAMS, is a sleep deprived sleep lab technician with a severe mental disorder and an obsession with astronauts. She considers herself a woman of science. Even with her delusions, though, it was important to me to do right by Lela.

As Publishers Weekly noted in their review of TRAJECTORY, I've "taken some liberties with details of the space program, but the primary fantastic elements are the symptoms of Lela's increasingly dubious grasp on reality." Those liberties are exactly the reason why it was important to me to research the space program. That's the thing that drives Lela, and mentally ill or not, her secret mission is too important to ever get it wrong. That mission: she breaks into the homes of astronauts to monitor their sleep patterns, which she believes keeps the space program safe from disaster. Because Lela's an expert on the shuttle program, I needed to learn a lot in order to write her.

So how does someone like me—a woman with only a lay knowledge of space travel and space shuttles—go about learning more than a normal person needs to know? Go to the source, of course: astronauts. I considered writing gushing fan letters to a bunch of astronauts in hopes that they'd take pity on me and answer my questions, but it turned out that I didn't need to do that.

The very excellent Philadelphia Science Festival brought the astronauts to me. Back when I was researching THE TRAJECTORY OF DREAMS, the festival was in its first year, but some of the offerings seemed tailor made toward what I needed. Dr. Guion Bluford, Jr., an astronaut (and the first African American in space) who grew up in West Philly, gave a talk at University of the Sciences. Bluford spoke about his experiences on the space shuttle and the International Space Station, both of which were deeply useful for writing a believable astronaut. Bluford showed slides of the ISS, which included pictures of both U.S. and Russian space suits. He's an incredibly dynamic presenter, full of enthusiasm for space travel.

Mary Roach also appeared, giving a talk about her non-fiction book Packing for Mars at the Franklin Institute. If you've ever read anything by Roach, you know she writes science in an entertaining way that makes it a pleasure to read. Interestingly, both Roach and Bluford spoke about future Mars missions, specifically the idea of manned missions and what those might look like (which, in turn, sparked another novel for me). That's not all the research on space travel and the shuttle program I did, but it was the most fun.

Could I have written a good novel without that research? Maybe. But getting the details right is something I appreciate in other novels, so it seemed particularly important for me to make every effort. THE TRAJECTORY OF DREAMS is a richer novel for it!

What's your favorite novel that gets the research right?

On this stop of THE TRAJECTORY OF DREAMS blog tour, you can win a signed copy of my novel, along with an astronaut rubber ducky. Enter below for your chance to obsess with Lela about the space program.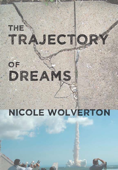 Publishers Weekly calls THE TRAJECTORY OF DREAMS (Bitingduck Press, ISBN 9781938463440) a "skillful mainstream examination of a psychotic woman's final descent into insanity." The novel exposes the chaotic inner life of Lela White, a sleep lab technician and mentally ill insomniac who believes she has been tasked with protecting the safety of the revitalized U.S. space shuttle program. She breaks into the homes of astronauts to watch them sleep, and she is prepared to kill to keep those with sleep problems from the shuttle launch. Her delicate grasp on reality becomes more tenuous when annoying co-worker Trina Shook insists on moving into her house and visiting Russian cosmonaut Zory Korchagin inserts himself into Lela's life. Korchagin's increasing interest puts her carefully-constructed world at risk of an explosion as surely as he does his own upcoming launch. Lela's tragic childhood unfolds throughout the novel, revealing the beginnings of her illness and long-buried secrets, and as Lela's universe unravels, no one is safe.

THE AUTHOR: Nicole Wolverton fears many things, chief amongst them that something lurks in the dark. From ghosts to stalkers, her adult and young adult fiction plays on the mundane and not-so-mundane things that frighten us all. THE TRAJECTORY OF DREAMS is her debut novel. She is a freelance writer and editor and lives in the Philadelphia area with her husband, dog, and two cats.