ScienceThrillers.com book review of SLEEP DONATION science fiction novella by Karen Russell.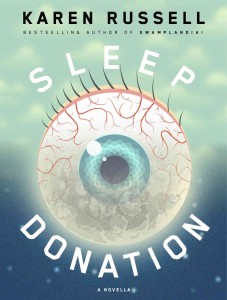 Publication date: March 25, 2014
Category: literary science fiction novella
Tech rating (out of 5):

Summary (from the publisher):
From the author of the New York Times bestseller Swamplandia!, and finalist for the Pulitzer Prize, an imaginative and haunting novella about an insomnia epidemic set in the near future.

A crisis has swept America. Hundreds of thousands have lost the ability to sleep. Enter the Slumber Corps, an organization that urges healthy dreamers to donate sleep to an insomniac. Under the wealthy and enigmatic Storch brothers the Corps' reach has grown, with outposts in every major US city. Trish Edgewater, whose sister Dori was one of the first victims of the lethal insomnia, has spent the past seven years recruiting for the Corps. But Trish's faith in the organization and in her own motives begins to falter when she is confronted by "Baby A," the first universal sleep donor, and the mysterious "Donor Y."

Sleep Donation explores a world facing the end of sleep as we know it, where "Night Worlds" offer black market remedies to the desperate and sleep deprived, and where even the act of making a gift is not as simple as it appears.
Sleep Donation
is an ebook-only novella ("Kindle Single") that has received a disproportionate amount of media attention, including a full-length feature on NPR. I didn't hear the NPR interview but somebody told somebody who told me the basic premise of this story, and I had to read it.
I don't know if authors like Karen Russell get insulted when their work is categorized as science fiction (a genre ghetto, gasp!), but I see no other way to categorize this story. It's literary in form but 100% science fiction in content.
Some aspects of this story (I won't say book–it's about 1/3 the length of a typical novel) are brilliant. Enough aspects, in fact, to compensate for the anemic plot and ending. I'm glad I bought and read Sleep Donation and I think most ScienceThrillers.com readers would like it too. Here is what you need to know to decide:
The science fiction premise of Sleep Donation is terrific and it kept me hooked throughout. Put simply, the author took the entire real-life set up of blood transfusions (the critical need, the ethics of donation, matching types, screening donors and the possibility of contagion) and switched it to sleep. In the story's alternate US, an epidemic of sleeplessness is killing people. They've found a way to collect REM sleep from donors but there are various problems with the supply. Author Karen Russell uses accurate parallels from the early years of the AIDS epidemic to complicate matters in the sleep donation tale. Her portrayal of the epidemiology, sleep collection infrastructure, and mass hysteria of the public are spot-on.
Because the social universe Russell created is deep and well-thought out, she is able to touch on a number of interesting and thought-provoking social issues related to health and disease, waking and sleeping, social good vs individual benefit.
The problems? Although this novella is longer than a "short story," it conforms to many of the norms of literary short stories–and some of those norms are kind of irritating to genre fiction fans. For example, there is often a pretentiousness of both language and plot. Here, Russell displays her writing talent with language that is 90% intelligent and only about 10% needlessly showy.  I'm fine with words like "avuncular" and "empirical" and "credulity" but when I got to "nacreous," that was a bit much. Most of Russell's poetic constructions hit the mark of being descriptive but not too flowery. Some of her clever sentences, however, merely draw attention to themselves.
The bigger problem with Sleep Donation is plot development. After building a compelling and totally believable world in the first part of the story, the plot later wanders to an ending that is incomplete and unsatisfying. Aspects of character and future plot developments are hinted at but not developed. A lengthy sequence near the end of the story unfolds between the protagonist Trish and Mr. Harkonnen, Baby A's father. The two wander through the Night World and share a series of minor experiences that appear to be fraught with significance or symbolism but honestly the meaning escaped me and the whole thing seemed bizarre.
Despite these flaws, I recommend Sleep Donation on the strength of the imaginative, fully realized SF premise which is more than enough to carry the brief length of the tale.