ScienceThrillers.com book review of Dead on Arrival by Matt Richtel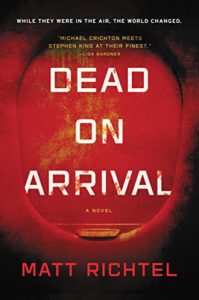 (excellent; top 30% of SciThri)
Tech rating (out of 5):

Publication date: August 2017
Category: Science thriller / Science fiction
Summary (from the publisher):
An airplane touches down at a desolate airport in a remote Colorado ski town. Shortly after landing, Dr. Lyle Martin, a world-class infectious disease specialist, is brusquely awakened to shocking news: Everyone not on the plane appears to be dead. The world has gone dark. While they were in the air, a lethal new kind of virus surfaced, threatening mankind's survival, and now Martin—one of the most sought-after virologists on the planet until his career took a precipitous slide—is at the center of the investigation.

Moving at lightning pace from the snowbound Rockies to the secret campus of Google X, where unlimited budgets may be producing wonders beyond our capacity to control, Dead on Arrival is a brilliantly imaginative, intricately plotted thriller that draws on Matt Richtel's years of science and technology reporting for the New York Times, and establishes him as one of the premier thriller writers working today.
ScienceThrillers review:
You cannot top the opening of Pulitzer prizewinning author Matt Richtel's new techno-paranoid nightmare, DEAD ON ARRIVAL. For thriller setups, this is gold: A small commercial jet lands at a smallish commercial airport, at night, in the winter. Communications from the ground had ceased minutes before. The airport is dark. No one, nothing is moving or greets the plane. The creepiness and mystery play out for 150 pages, split into two sections by an interlude from three years earlier. Then something else entirely happens. The compulsion to find out what's really going on guaranteed that I would keep reading.
Based on online reviews, readers are polarized by this book. Some love it, some hate it. I think part of the issue is expectations. Richtel sets up a stunning, action/plague thriller opening but the long middle of the book does not read like that kind of story. It's more literary, cerebral. Richtel has a particular style of psychological writing, using subtext and asides to enhance the dialog. Not everyone will like it. But for those who do, it's a home run. In addition, the protagonist, like others in Richtel's books, is a flawed and at times unlikeable human being. For some readers, dislike for a main character directly transfers into dislike for the story.
I'm a fan of Richtel's work and I like the way he plays with a book's reality–always slippery, uncertain. Things you think are true may not always be what they appear. DEAD ON ARRIVAL targets themes that run through both his fiction and investigative journalism: an unease with the extremes to which technology is dragging us, a questioning of the assumptions of Silicon Valley. DEAD ON ARRIVAL is a scary story for our time.
---
An advance reader copy of this book was given to me by the publisher.
Support ScienceThrillers.com and the book's author: Click to buy Dead on Arrival from amazon.com
Author's website: mattrichtel.wordpress.com
Other books by Matt Richtel, reviewed by Sciencethrillers.com: The Doomsday Equation; A Deadly Wandering (nonfiction); The Cloud