ScienceThrillers.com book review of I Contain Multitudes by Ed Yong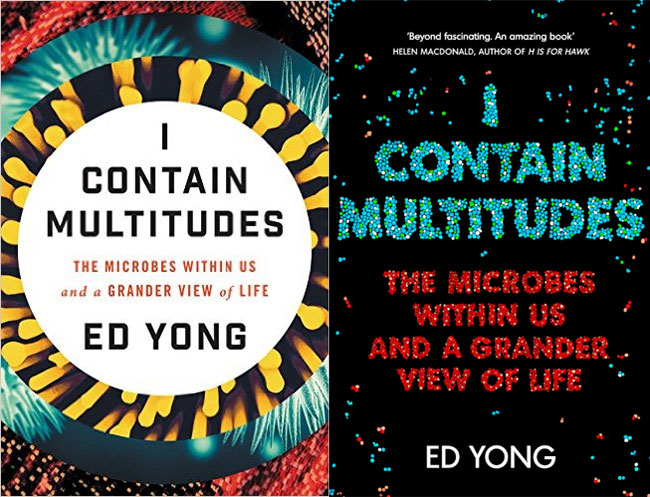 Publication date: August 2016
Category: Popular science
Summary (from the publisher):
A groundbreaking, wondrously informative, and vastly entertaining examination of the most significant revolution in biology since Darwin—a "microbe's-eye view" of the world that reveals a marvelous, radically reconceived picture of life on earth.

Every animal, whether human, squid, or wasp, is home to millions of bacteria and other microbes. Ed Yong, whose humor is as evident as his erudition, prompts us to look at ourselves and our animal companions in a new light—less as individuals and more as the interconnected, interdependent multitudes we assuredly are.

The microbes in our bodies are part of our immune systems and protect us from disease. In the deep oceans, mysterious creatures without mouths or guts depend on microbes for all their energy. Bacteria provide squid with invisibility cloaks, help beetles to bring down forests, and allow worms to cause diseases that afflict millions of people.

Many people think of microbes as germs to be eradicated, but those that live with us—the microbiome—build our bodies, protect our health, shape our identities, and grant us incredible abilities. In this astonishing book, Ed Yong takes us on a grand tour through our microbial partners, and introduces us to the scientists on the front lines of discovery. It will change both our view of nature and our sense of where we belong in it.
ScienceThrillers review:
For once, the publisher's summary does not overstate. I Contain Multitudes, written by one of my favorite science communicators, Ed Yong, IS astonishing and it DOES change the reader's view of nature. Heck, I have taught microbiology at the college level and it STILL changed my way of seeing life on Earth.
The surprise, for me, was how this book covers not only the science of the human microbiome, but spreads its net more widely across all forms of life. This is a good thing, because Yong has a gift for choosing, organizing, and telling stories about microbiome science. I loved his stories about desert woodrats and creosote poison (microbes to the rescue!), about human breast milk as a fertilizer for "good" gut bacteria, and about the profound importance of the microbiome for insects. His collected tales range far and wide but weave together in a tribute to microbes and their underappreciated importance–nay, necessity–for life. He also brings in just enough description of the scientific method to make experiments comprehensible. And he avoids hype, telling a nuanced tale that includes wonder for what microbiome science might yield in the future with caution against overselling what we actually know now.
I Contain Multitudes is a splendid work of popular science. Accessible, entertaining, literate, and important, I highly recommend this book.
---
Hear Ed Yong discuss the book with Bill Gates on YouTube
To sample Ed Yong's science journalism: articles for The Atlantic
Support ScienceThrillers.com and the book's author: Click to buy I Contain Multitudes from amazon.com
If you enjoy I Contain Multitudes, you might like: Amoeba in the Room by Nicholas Money