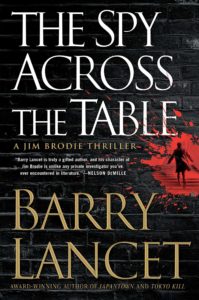 Publication date: June 2017
Category: international thriller
Summary (from the publisher):
Jim Brodie is an antiques dealer, Japan expert, and second-generation private investigator. When two theater friends are murdered backstage at a Kennedy Center performance in Washington, DC, he's devastated—and determined to hunt down the killer. He's not the only one.

After the attack, Brodie is summoned to the White House. The First Lady was the college roommate of one of the victims, and she enlists Brodie—off the books—to use his Japanese connections to track down the assassin. Homeland Security head Tom Swelley is furious that the White House is meddling and wants Brodie off the case. Why? For the same reason a master Chinese spy known only as Zhou, one of the most dangerous men alive, appears on the scene: Those murders were no random act of violence.

Brodie flies to Tokyo to attend the second of two funerals, when his friend's daughter Anna is kidnapped during the ceremony. It is then Brodie realizes that the murders were simply bait to draw her out of hiding. Anna, it seems, is the key architect of a top-secret NSA program that gathers the personal secrets of America's most influential leaders. Secrets so damaging that North Korea and China will stop at nothing to get them.
ScienceThrillers review:
I'm a big fan of Barry Lancet's novels, the Jim Brodie series of international action thrillers that are largely set in Japan. Book #4 The Spy Across the Table was just released. I opened to page 1 and in the first line I was reminded of why I enjoy Lancet's writing so much: "Mikey was shot because he begged me for a favor and I complied."
The narrator and protagonist, Jim Brodie, is a singular character in modern genre fiction. Brodie is most passionate about art and antiques, particularly the Japanese objects that he sells in his antiques shop in San Francisco. But the character (like the author) has also lived in Japan for a long time. Brodie's father left him a private security agency in Tokyo, which Jim continues to own and operate. In previous books, it was this connection to the agency which landed him in trouble. In Spy, Brodie's involvement begins with a personal tragedy–a vendetta to find out who murdered his friend. This quest quickly spins out of control into something much larger, involving governments and the Chinese super-spy of the title. Did Lancet know that North Korea and tensions in East Asia would make his plot so timely?
As with previous novels in this series, the book is full of insights into Japanese culture, art, and history. Also as previously, Brodie is a reluctant fighter but he is a master of hand-to-hand combat, and Lancet writes the fight scenes in spectacular fashion. What is different this time is a much darker tone. Spy is Brodie's most wrenching experience yet, messing with his mind, his heart and soul, and definitely his body. If a character is revealed by the choices he makes in the most difficult circumstances, then Jim Brodie bares his soul in this book. After all he suffered, what kind of man will he become in the next book? We'll find out in a year or two, I expect, with a book #5 which I will be eager to read.
---
An advance copy of this book was given to me with no promise of a review, good or bad.
Support ScienceThrillers.com and the book's author: Click to buy The Spy Across the Table from amazon.com
Other books in the Jim Brodie series: Japantown; Tokyo Kill; Pacific Burn