I am pleased to announce the release of my third science thriller novel, The Han Agent. The book has gotten some rave reviews from early readers, and I'm so excited to share this book with you, the ScienceThrillers.com audience, for whom it was written. Please buy the book or request it from your local library this week. Let's get a story with real science into the bestseller lists!
---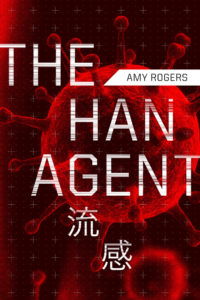 The Han Agent by Amy Rogers. Science thriller (September 5, 2017)
In the 1930s, Japanese scientists committed heinous crimes in their quest for the ultimate biological weapon.
The war ended. Their mission did not.

Eighty years later, Japanese-American scientist Amika Nakamura won't let rules stand between her and scientific glory. When the ambitious young virologist defies a ban on the genetic manipulation of influenza, she's expelled from the university. Desperate to save her career, she accepts a position with a pharmaceutical company in Tokyo. Soon after, a visit to a disputed island entangles her in a high-profile geopolitical struggle between Japan and China. Applying her singular expertise with bird flu in a risky experiment may be the only way out. Little does she know that Japanese ultranationalists and a legacy of unpunished war crimes lurk in the shadows, manipulating people, politics, and science.

But DNA doesn't lie. Amika uncovers a shocking truth: a deadly virus is about to put the "gene" in genocide.
Advance praise for The Han Agent by Amy Rogers, founder of ScienceThrillers.com
"…as exciting as it is frighteningly realistic. It could be tomorrow's headline."—James Rollins, #1 New York Times bestselling author
"Sobering, suspenseful, and absolutely chilling."—Barry Lancet, award-winning author of Japantown and Tokyo Kill
"The Han Agent is a surefire genre hit, fast-paced and full of elements of mystery and adventure."—Foreword Reviews magazine
"This pressure cooker of a thriller portrays with chilling realism how individuals can use specialized scientific knowledge for good or evil."—J.E. Fishman, bestselling author of Primacy and the Bomb Squad NYC series
Click here for links to all other retailers.
Click here for bulk purchases from publisher.
For more information about the book, visit publisher's site
Please share this jpg in your social media: