ScienceThrillers.com welcomes J.M. Lanham, an author whose novel The R.E.M. Effect "hearkens to Michael Crichton's penchant for genetics gone wrong, pharmaceutical malfeasance, and high-stakes conspiracies." Here, Lanham shows his hard-SF bona fides with a guest post about antisense RNA therapy, a central theme of his SciThri novel.
---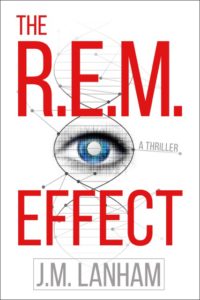 The REM Effect by J.M. Lanham. Medical/Science thriller (2016)
It's 2021 and Paul Freeman just landed a job with Asteria Pharmaceuticals, a world leader in revolutionary drug development. Paul knows the company's future is riding on the success of their latest product – a sleeping pill designed to interact with the human genome to deliver the perfect eight-hour sleep cycle.

Just a few blocks from Asteria's Atlanta headquarters, troubled self-help guru Donny Ford is selling a different kind of drug, empowering followers to take control of their lives using a sacred meditation technique skeptics believe may have already taken his mind to a dangerous place.

3,000 miles away, war-hardened journalist Claire Connor sits captive in a top-secret facility hidden deep in the Costa Rican jungle, guilty of two offenses: seeking help for a sleep disorder, and asking too many questions.

When these worlds collide, the three will discover just how far some companies are willing to go to protect the bottom line.
---
Antisense Therapy: Killing the Messenger, One Gene at a Time
Guest post by J. M. Lanham, author of the sci-fi thriller The REM Effect
What if treating inherited diseases were as simple as blocking an unwanted caller?
It may sound like science fiction, but proponents of antisense therapy have long believed antisense drugs hold the key to inhibiting the very proteins responsible for debilitating (and often terminal) diseases such as Huntington's, Lou Gehrig's, muscular dystrophy, and cystic fibrosis, to name but a few.
Antisense therapy—also referred to as oligonucleotide, or ON intervention—has made incredible progress during the 21st century, but the technology is far from new. Methods for ON synthesis date back to the early 1970s, with a number of scientific contributions leading up to the Zamecnik and Stephenson articles published in 1978. These articles highlighted the discovery that infected cell cultures of Rous sarcoma virus could be inhibited with antisense therapy. Nine years later, the first antisense patent was filed.
Since that time, researchers have worked to discover new ways antisense therapy could be used to treat genetic abnormalities in the future. It's a promising technology, and one that is a central theme in my science-fiction thriller The R.E.M. Effect. But how does it all work?
Simply put, antisense therapy involves stopping a genetic mutation dead in its tracks. For example, mutations in the HTT gene are responsible for Huntington's Disease; a fatal, progressive genetic disorder that leads to the breakdown of nerve cells in the brain. Such mutations are passed on through single-stranded messenger RNA (mRNA), replicating the faulty genetic instructions in cells throughout the body until the patient either succumbs to the disease, or something steps in to stop it.
This is where antisense therapy comes into play. Because mRNA is single-stranded, a synthesized nucleic acid called an antisense oligonucleotide can bind to the faulty mRNA, blocking protein synthesis and stopping translation. Since genetic disorders rely on abnormal genes continually copying themselves to other cells, the ability to inhibit problem proteins is promising for those suffering from these diseases.
Of course, this is all easier said than done.
While the FDA has approved a small dose of antisense drug regimens used to treat genetic disorders from spinal muscular atrophy (SMA) to high cholesterol, other drugs haven't fared as well, like GlaxoSmithKline's failed antisense drug designed to treat Duchenne muscular dystrophy (DMD) during phase three of the FDA clinical trials in 2013. Three years later, the FDA issued a Complete Response letter to GlaxoSmithKline, stating "the standard of substantial evidence of effectiveness has not been met."
Research and development setbacks are a fact of life for pharmaceutical companies, but antisense is a particularly expensive venture, costing billions to develop new and experimental drugs that may never make it to market. It's a risky business, and a step away from reliable pharmaceutical cash cows, like medications for blood pressure, allergies, antacids and antidepressants—all of which bring in billions in revenue for drug companies each year.
R&D setbacks play a significant role in The R.E.M. Effect. In the novel, Asteria Pharmaceuticals has spent billions developing the perfect sleep aid. The pill is called Ocula, and it works by using antisense technology to inhibit a set of genes linked to insomnia. The result? The perfect eight-hour sleep cycle. Unfortunately, a handful of clinical trial participants experience strange side effects that seem to be making their dreams come true.
This leads to an important question the book poses: How far would a pharmaceutical company be willing to go to hush up a few clinical trial outliers after putting every penny on the line to develop the drug of the century? Well, one can only hope such a company would just go as far as bankruptcy, but hey, this is supposed to be a fun, sci-fi thriller, right?
While the story of Ocula takes an ominous turn in the book, the true promise of antisense therapy should not be overlooked. Pharmaceutical companies continue to shell out R&D dollars toward antisense, and for good reason. Imagine diseases like sickle cell disease, Parkinson's, cystic fibrosis, and Crohn's disease being a thing of the past, joining the defeated ranks of measles, smallpox, and polio. What if one day a cancer diagnosis became little more than an inconvenience, with antisense therapy there to stop malignant cells from passing their genetic misinformation from one cell to the next?
One can only hope. Until that day comes, I'll be rooting for the very scientists tirelessly working to make antisense therapy a reality for every genetic disorder. And, borrowing a few headlines here and there to weave into my next science-fiction thriller.
---
About the Author: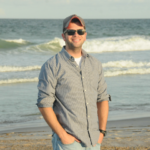 J.M. Lanham is an American author of science fiction, thrillers, and suspense.
Born in Georgia in 1983, Lanham has been fascinated with science fiction ever since he could pick up a paperback. Influences include Michael Crichton, Stephen King, Philip K. Dick, H.G. Wells, and Orson Scott Card, among many others.
Lanham's obsession with Big Pharma stems from his research into publicly traded pharmaceutical companies dating back to the early 2000s. He holds a bachelors degree in business administration, which has played an important role in filling an 11×14 frame he found at Goodwill. Lanham has been a professional copywriter and ghostwriter for five years. He currently lives in Florida with his wife and son.
Visit www.jmlanham.com to learn more about the author of The R.E.M. Effect, upcoming book signings, and special events. You can also sign up for his mailing list to receive future offers, book discounts, and more.