ScienceThrillers.com welcomes author Geoffrey Wells, whose new technothriller novel Atone for the Ivory Cloud combines elephant ivory trafficking, cybercrime, and international intrigue.
---
The Science Under the Ivory Cloud
Guest post by Geoffrey Wells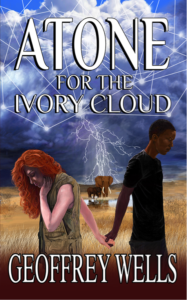 Atone for the Ivory Cloud by Geoffrey Wells. Technothriller; international espionage thriller (2017)
Readers of fiction who are interested in science and those who read ebook thrillers are no doubt already aware of our highly inter-connected world. However, they might not realize that the industry of ivory trafficking that has operated successfully using only analog methods for centuries, is now tapped into a supply chain that is managed by organized crime under the Cloud of the Dark Web. Hence the title of my new eco/cyber-thriller, Atone for the Ivory Cloud, on Amazon.
The African economies are emerging. East African countries of Kenya and Tanzania, which are responsible for most ivory exports to Asia—"harvested" from 30,000 plus poached elephants a year—are also countries, ironically, that have telecommunications infrastructure far superior to the cable and phone line-bound networks in the United States. They have innovated wireless microfinancing with technologies such as M-Pesa, have been using chip and pin credit cards for decades and use virtual currencies such as Bitcoin as standard operating procedure. Despite electrical power and corruption issues, Tanzania and Kenya's GDP growth in 2016 was 7.2% and 6% consecutively. And criminals are taking advantage.
It is into this world that Allison, a brilliant New York composer and coder goes undercover to trap a cybercrime syndicate that has hijacked her website—to trade ivory.
In summary, Allison is stunned when the CIA leaves her no option but to go undercover to modify the code she wrote to protect her symphony. She is deployed from New York with a savvy street vendor to Tanzania, where he is from—and where the cybercrime trail goes dead. Their guarded love affair is sidelined when they are abducted by a trafficker who poaches elephants on a massive scale. To avoid betraying each other they abandon their CIA handlers and return to New York City. Allison must find a way to bring down the mastermind knowing that she might have to sacrifice her symphony, her loved ones and her privacy—for a greater good.
Here is the trailer:
Scientists are familiar with the debate over proprietary achievement versus transparent open-source accomplishment. They also know how closely the discipline of music composition is to coding. In fact, I once did an informal survey of an IT department where I worked, and found that over 80% of the staff played a musical instrument. Therefore, it was not a stretch for me to conceive a character in my novel that experiments with code as much as she does with music.
She is initially most comfortable with a passive approach to protecting her work, because she knows just enough about coding to get into trouble. Her chosen approach is to borrow extensively from existing code found in open-source programs on the Internet. She unwittingly creates an onion router similar to Tor, and works, protected by hiding-in-plain-sight, without the baggage of the dubious operators who use Tor. It's a perfect proxy for the cybercrime syndicate that is trafficking ivory—and an ideal setup for the CIA to trap them. Except, Allison is the innocent that is still searching for her own authenticity, but who must be part of the mission because only she knows her compositions well enough to alter the code without detection.
What choice does she have? Her musical career as a composer hangs in the balance, unless she gets involved. And she does: eventually realizing that two can play the man–in-the-middle game. And so, she finds herself undercover, immersed in obfuscation, an attack using MBO (metamorphic binary obfuscation), anonymizing toolsets, bots and Bitcoins.
But the tug-of-war between her need for privacy and her conscience (con-science) weighs on her throughout the story. Being part of the "game" has an implicit responsibility to do the right thing. And she honors it.
"Atone for the Ivory Cloud is a compelling, fast-paced thriller with an exotic international flavor. Geoffrey Wells takes the reader on an enthralling ride, skillfully entwining cybercrime, music, and the fate of African elephants in a breathtaking tale of danger and romance." -Pamela Burford, best-selling author of Undertaking Irene.
---
About the Author: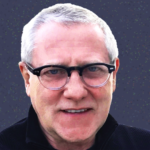 Impressions on a South African farm, boarding school, a father who read from the classics to his children, and a storytelling mother, sparked Geoffrey Wells with a writer's imagination. Though the piano and drum kits and Mozambique led to his first thriller, A Fado for the River, his career as Art Director in advertising led him to the American Film Institute, and an awe of digital technology propelled him to VP of Information Technology at Disney, ABC-TV stations and CIO for the Fox TV station group. Wells wrote an award-winning animated film, has visited elephant reserves, and climbed to the tip of Kilimanjaro. He lives on Long Island where he swims the open water and runs a video and design company.
Buy the book on amazon
Signup to my newsletters about privacy, elephant conservation, cyber trends and music.
And of course, updates on the release of Atone for the Ivory Cloud.