ScienceThrillers.com welcomes Darden North, IPPY Award-winning novelist and physician, to tell us about some science in his medical thriller The Five Manners of Death, which is being published today.
Want to read it? Enter to win a paperback copy!
a Rafflecopter giveaway FIVE MANNERS OF DEATH

---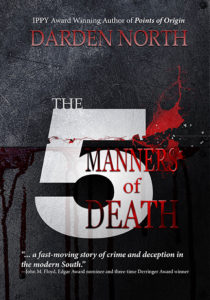 The Five Manners of Death by Darden North. Medical thriller (June 15, 2017)
When a construction worker unearths a decades-old human skull on the campus of the University of Mississippi, he sets in motion an eerie chain of events that leaves one woman desperate to rewrite history and another woman desperate to find the truth.

After the discovery of her Aunt Phoebe's 50-year-old note detailing the five manners of death, surgeon Diana Bratton is surrounded by bodies.  Suicide, accident, natural cause, and one death classified undetermined are soon crossed off this grisly list—leaving Diana to believe that only homicide remains. But the police prove her wrong.  Phoebe is linked to murder not only with the discovery of the skeletal fragments on the University campus but to the recent deaths of two local men. Diana is torn:  should she try to prove her aunt's innocence or accept police theory that her beautiful, beloved aunt is a woman who harbors dark and deadly secrets.

Stealing precious time from her young daughter, her surgical practice, and her hopes for a renewed romance, Diana launches a pulse-quickening quest to clear Phoebe's name.  However, as she searches for evidence, Diana finds that her desire to reach the truth may be eclipsed by Aunt Phoebe's need to rebury the past. When reality finally emerges, Diana faces the cold fact that murder is a family affair.  After all, things aren't always what they seem. And some things never die…
Support ScienceThrillers.com and the author by buying The Five Manners of Death at amazon.com
---
Beekeeping death: Accident or homicide?
Guest post by Darden North, author of The Five Manners of Death
According to the Centers for Disease Control, there are five manners of death: natural, accident, suicide, homicide, and undetermined. This science of death is central to the plot of my new thriller, The Five Manners of Death. When surgeon Diana Bratton crosses paths with the five ways to die, she believes that homicide is the only one left. Then the police prove her wrong. Diana discovers that homicide—that murder—is her family secret. This family allegiance complicates her life; for Diana Bratton, loyalty trumps the truth.
Dr. Diana Bratton understands a medical examiner's duty to assign the cause of death. However, lines can blur. For instance, the body of a beekeeper discovered in his own bee hive, his death ruled due to anaphylactic shock secondary to bee venom allergy—is this an accident or a homicide? And who would maintain a bee-keeping hobby when allergic to bees?
Dewey Marzel in The Five Manners of Death—that's who.
Bee venom easily absorbs through oral mucous membranes, initiating an allergic reaction for poor Marzel early in the novel—no bee stings involved. Since the food consumed was served as peanut butter cookies, Drs. Diana Bratton and Brad Cummins, the medical team on site, assume that Marzel suffers an allergy to peanuts. Red herrings … great tools for the thriller or mystery writer.
Not a beekeeper myself, I consulted two local friends in my research. Both Mart and Bill keep their beekeeping equipment and colonies on their own neighborhood city property. Mart's home is not far from my own; he and his wife also raise chickens and have had pet peacocks roaming their property. Bill is an otolaryngologist, or ENT physician, who bottles his honey as gifts and donates the product at fund raisers.
In our conversations, I learned that my friends do not use fancy terms for their hives such as apiary or bee yard, nor do they refer to themselves as apiarists, the more glamorous-sounding name for a beekeeper. Both Mart and Bill mentioned that all beekeepers get stung at some point, like when a trapped bee goes unnoticed in a fold of clothing until it's too late.
Honeybees are generally docile, but for my character Dewey Marzel, it is a different story.
Marzel's apiary is a simple operation. He understands the need to use smoke as a protective means when entering the hive. Although in The Five Manners of Death I do not detail the science behind this human defensive mechanism, I went to beekeeping.com for answers. In seems that smoke from a fancy smoker device or even a burning broomstick indirectly converts aggressive bees into more docile creatures. When detecting smoke, bees suspect a nearby wildfire and plan to relocate the hive to escape the flames. In preparation for the move, they gorge on their own honey, fill their bellies and become satiated and lazy.
Smoke also masks the alarm pheromone given off by guard bees. To another insect this chemical substance resembles the smell of banana candy. Maybe that's why one never sees a beekeeper eating a banana before harvesting his honey or performing maintenance on her apiary. (Source: www.beethinking.com)
Dewey Marzel does not eat a banana in The Five Manners of Death—nor does he suck on banana candy. He has enough problems already.
"Darden North's fifth novel, The Five Manners of Death, a fast-moving story of crime and deception in the modern South."—John M. Floyd, Edgar Award nominee and three-time Derringer Award winner
"The Five Manners of Death … so filled with twists and turns that it leaves us breathless."— Martin Hegwood, author of Jackpot Bay
---
About the Author:
Darden North's mystery and thriller novels have been awarded nationally, most notably an IPPY in Southern Fiction for Points of Origin.  The Five Manners of Death also follows Wiggle Room, Fresh Frozen, and House Call. Darden has served on author panels at writing conferences including Killer Nashville, Murder on the Menu, SIBA Thriller Author Panel, and Murder in the Magic City. To book Darden for a book club, book signing, or presentation contact: Darden@DardenNorth.com. A board-certified obstetrician-gynecologist practicing at Jackson Healthcare for Women in Flowood, Mississippi, Darden North is Chairman of the Board of the Mississippi Public Broadcasting Foundation and a member of the Editorial Board of the Journal of the Mississippi Medical Association. He lives in Jackson with his wife Sally and enjoys family, travel, and, outdoor activities. The Norths have two adult children, who also work in the medical field.​
Author's website: dardennorth.com