ScienceThrillers.com welcomes author Kathleen Valenti, whose mystery series featuring pharmaceutical researcher Maggie O'Malley launches September 5.
Want to read it before everyone else? Enter to win a paperback ARC (advance reader copy)!
---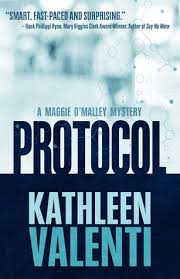 Protocol by Kathleen Valenti. Medical mystery/thriller (September 5, 2017)
Freshly minted college graduate Maggie O'Malley embarks on a career fueled by professional ambition and a desire to escape the past. As a pharmaceutical researcher, she's determined to save lives from the shelter of her lab. But on her very first day she's pulled into a world of uncertainty. Reminders appear on her phone for meetings she's never scheduled with people she's never met. People who end up dead.

With help from her best friend, Maggie discovers the victims on her phone are connected to each other and her new employer. She soon unearths a treacherous plot that threatens her mission—and her life. Maggie must unlock deadly secrets to stop horrific abuses of power before death comes calling for her.
Support ScienceThrillers.com and the author by pre-ordering Protocol at amazon.com
---
What's a Girl Like Me Doing with a Book Like This?
Guest post by Kathleen Valenti, author of Protocol
When I was in my early 20s, I accompanied a youth group to France as an interpreter. It was the perfect opportunity to put my years of high school and college French to good use (there aren't many French-speakers in my Oregon hometown), and it provided me the chance to experience the cultural riches of a country I'd always wanted to visit.
One of the biggest highlights of the trip wasn't shopping along des Champs Élysées or seeing the Eiffel Tower at night or visiting Paris' most famous museums. It was the moment when a bank teller thought I was French.
I had arrived.
I had the same feeling at Malice Domestic when early readers of PROTOCOL asked about my job as a pharmaceutical researcher.
I almost spewed coffee from my nose.
Me? A pharmaceutical researcher?
I was the English major who prayed her way through chemistry and scarcely knew the difference between aspirin and Tylenol.
I was beyond flattered.
The question suggested that I had successfully impersonated a pharmaceutical professional and had channeled the role into my book and protagonist.
To what could I attribute this masquerade? How did I cover a subject with which I had no practical experience? How had I gone against the commandment of Thou Shalt Write What Ye Knows so boldly, so shamelessly?
One word: research.
Followed by three words: lots of it.
I knew I wanted to write about the world of pharmaceuticals because it's replete with storytelling—and mystery-spinning—opportunities. I began with that great font of information, Google, to learn the basics of how drugs are developed and brought to market.
Spoiler alert: it wasn't enough.
Fortunately, I have a friend whose husband works for an international pharmaceutical company—Big Pharma, just like in my book. With this friend's help, I learned the ins and outs of pharmaceutical research and development. The science behind discovery. Assays. Testing. Review processes. And, yes, protocols.
I also gleaned a great deal about what it's like to work in this rarefied world. The pressure's intense. So are many of the people who work there. And although there are many joys to be found in work dedicated to bettering the human experience, there are challenges that go beyond the scientific method.
Some of those challenges make for good mystery fodder.
PROTOCOL focuses on the linchpin between science and commerce, progress and profit margins. Because seventy percent of us rely on some kind of medication for our health and well-being, it's a topic that touches many lives. Small wonder prescription costs, benefits and oversight make headlines.
The upshot of this pharmaceutical crash-course was that it opened the door to a subject area rich with possibility. I still have much to learn, and that's okay. I've discovered that research is the prescription for the curious— one that needs constant refilling.
---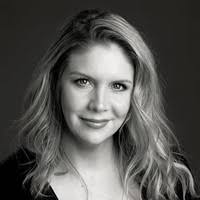 About the Author:
When Kathleen isn't writing page-turning mysteries that combine humor and suspense, she works as a nationally award-winning copywriter. She lives in Oregon with her family where she pretends to enjoy running. Protocol is her debut novel and the first of the Maggie O'Malley mystery series.
Author's website: kathleenvalenti.com