ScienceThrillers.com welcomes author Dennis Meredith, whose author of several science thrillers whose next book The Neuromorphs is seeking nominations on Kindle Scout for one more day. Nominate it today and get a free ebook when it's published!
The Neuromorphs summary: In 2050, self-learning Helper androids have become benign, invaluable aids to humans. That is, until Russian mobsters hack the operating systems of Helpers of ultra-wealthy owners…
How to Make Plot Ideas Pop Into Your Head
Guest post by Dennis Meredith
Novelists are often asked how they get their plot ideas, and I get plots for my science thrillers to pop into my noggin from extensive reading about science and technology. Sometimes the idea will come before any research, often as little more than a phrase or sentence. I've found "What if…?" questions to be the most fruitful.
My first published novel, The Cerulean's Secret, arose from the simple question "What if there was a blue cat?" The notion nagged and nagged at me, until I started spinning a plot around it. I realized the plot had to revolve around genetic engineering, so I began doing research, coming up with lots of articles that helped form the plot. As with all my novels, I included a list of those sources on my web site.
Similarly, The Rainbow Virus started with "What if there was a virus that turned people colors?" The plot and details from that novel also grew from research that I ultimately posted on my web site.
Sometimes, it won't be a "What if…?" question that sparks a plot, but passages in articles I've read.
For example, the idea for The Neuromorphs arose from two quotes. In 2014, Science magazine quoted computer researcher Todd Hylton as saying "We think robotics is the killer app for neuromorphic computing." Of course, Hylton didn't literally mean killer robots, but the idea stayed in my head that the kind of robots based on brain-like neuromorphic circuitry could somehow become lethal.
The kicker that really launched the plot was a chilling passage from an article on artificial intelligence by Jason Tanz in Wired magazine:
"With machine learning, the engineer never knows precisely how the computer accomplishes its tasks. The neural network's operations are largely opaque and inscrutable. It is, in other words, a black box. And as these black boxes assume responsibility for more and more of our daily digital tasks, they are not only going to change our relationship with technology—they are going to change how we think about ourselves, our world, and our place within it."
Of course, I needed a plot to go with those ideas, so I decided on a theme that no safeguards against artificially intelligent robots escaping control could protect against human greed and depravity. I found lots of good resources to help formulate a plot to support that theme.
In that plot, Russian mobsters bribe the chief programmer of a company that makes lifelike androids to alter the operating systems of androids belonging to wealthy people. Those androids would then kill their owners, be re-engineered to mimic them, take their place, and loot their wealth for the mobsters.
Sometimes, though, it won't be articles I've read, but technology-related experiences that trigger a plot idea. The plot for my latest novel, The Happy Chip, arose when I realized how extensively companies like Facebook and Google were compiling data on my personal habits. That data, I realized, could evolve into a form of control. I wondered "What if people could have chips implanted that would give them data on themselves?" From there, the plot evolved in which corrupt company executives transform data chips into control chips.
My plot-conceiving technique has worked incredibly well. I now have 20 novel plots lined up and more coming. Now, I just have to write the books!
---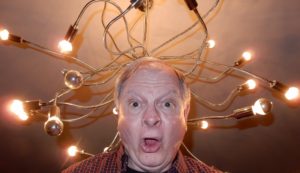 About the Author:
Dennis Meredith's career as a science communicator has included service at some of the country's leading research universities, including MIT, Caltech, Cornell, Duke and the Universities of Rhode Island and Wisconsin. He has worked with science journalists at all the nation's major newspapers, magazines, and radio and TV networks and has written well over a thousand news releases and magazine articles on science and engineering over his career. He has served on the executive board of the National Association of Science Writers and is a contributor to its magazine ScienceWriters.
Author's website: dennismeredith.com His latest release is The Happy Chip. Science fiction thriller (April 2017)
You feel ecstatic! Until you kill yourself.

The Happy Chip is the latest nanoengineering wonder from the high-flying tech company, NeoHappy, Inc.

Hundreds of millions of people have had the revolutionary nanochip injected into their bodies, to monitor their hormonal happiness and guide them to life choices, from foods to sex partners.Given the nanochip's stunning success, struggling science writer Brad Davis is thrilled when he is hired to co-author the biography of its inventor, billionaire tech genius Marty Fallon.

That is, until Davis learns that rogue company scientists are secretly testing horrifying new control chips with "side effects"–suicidal depression, uncontrollable lust, murderous rage, remote-controlled death, and ultimately, global subjugation.

His discovery threatens not only his life, but that of his wife Annie and their children. Only with the help of Russian master hacker Gregor Kalinsky and his gang can they hope to survive the perilous adventure that takes them from Boston to Beijing.
Support ScienceThrillers.com and the author by ordering The Happy Chip at amazon.com