ScienceThrillers.com welcomes author Robert Reiss writing as James Abel. Abel's series of science thrillers about Joe Rush, a military bio-terror expert, is now at book #4. If you haven't discovered these yet, now is the time!
---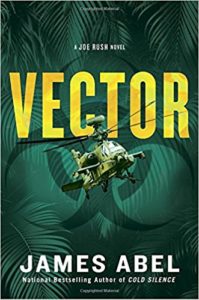 Vector by James Abel. Science/medical thriller (paperback released July 25, 2017)
Joe Rush takes on a new terror, spawned in the Amazon rain forest, that threatens to bring the world to its knees in James Abel's latest bio-thriller.

While studying new forms of malaria at an Amazon gold rush, Joe Rush's best friend and partner, Eddie Nakamura, disappears. Learning that many of the sick miners have also vanished, Rush begins a search for Eddie that takes him into the heart of darkness–where while battling for his life, he discovers a secret that may change the world.

Thousands of miles away, sick people are starting to flood into U.S. hospitals. When the White House admits that it has received terrorist threats, cities across the Northeast begin to shut down. Rush and his team must journey from one of the most remote spots on Earth to one of the busiest, as the clock ticks toward a kind of annihilation not thought possible. They have even less time than they think to solve the mystery, for the danger–as bad as it is–is about to get even worse.
Support ScienceThrillers.com and the author by ordering Vector at amazon.com
---
Truth about emerging diseases makes compelling fiction
Guest post by James Abel, author of Vector
VECTOR took over 25 years in the making, and combines my experiences covering science and climate change as a journalist and non-fiction author…and a horrifying "what if" that I learned about along the way. I think that one reason I invented my hero – former Marine bio-terror expert Joe Rush – is that he epitomizes that mix of real world and hard fact, and what may happen next.
In the real world I covered a gold rush deep in the Amazon, where I saw men suffering from terrible new forms of malaria. I also visited Fort Detrich, Maryland, where the Army disease labs are located. At Harvard University I interviewed experts familiar with mosquito biology…and at NYU, I talked to researchers who told me the history of the way that certain mutations in nature made famous disease (black plague, for instance) much worse.
As a fiction writer of 18 books I often deal with what if? What if this happened now? What if certain people intentionally designed a new kind of VECTOR, to carry a new kind of illness, a real one, deep in the Amazon. How would they do it? How would they spread it? How would you track it down and understand it and hopefully fight it as a clock ticks and the danger spreads…and that is what became VECTOR.
Joe Rush is an fictional individual with loves and hates, friends and lovers, but he is also a living embodiment of what we really know about illness, what we wish we knew, what we fear can happen, and how we'd fight it if if did happen. The weapons we will face in the future will always be different from the ones we have faced in the past.
---
About the Author:
James Abel is the pseudonym for Bob Reiss, an accomplished author and journalist who has written extensively about trouble spots and exotic locations around the world, including the Arctic, Somalia, and the Amazon rain forest. He is the author of the Joe Rush novels, including Cold Silence, Protocol Zero, and White Plague. Abel lives and works in New York City.
Author's websites: JamesAbel.com and BobReiss.com