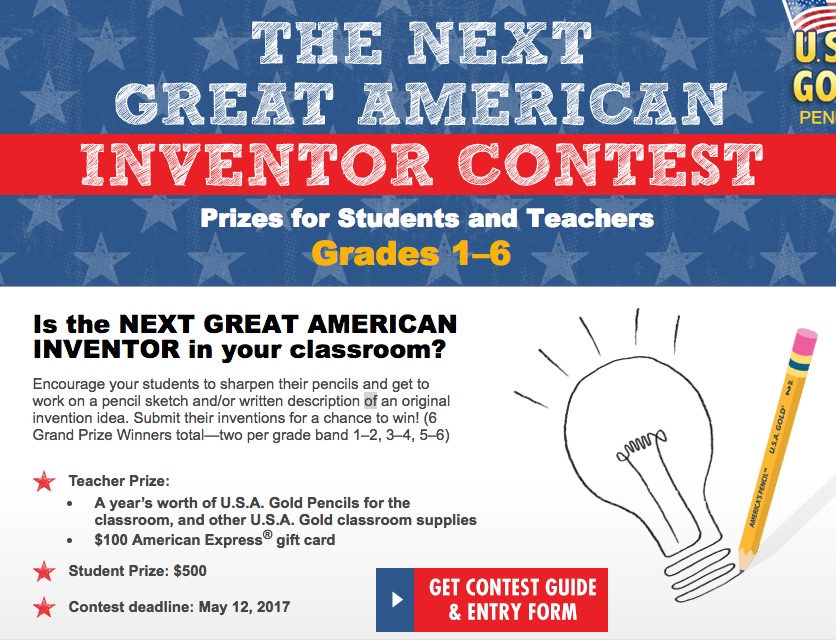 I just heard about a loosely STEM-themed contest for grades 1-6. Scholastic & USA Gold Pencils are encouraging innovation with an inventor contest. Kids submit a sketch or description of their invention by May 12.
"Six grand prizes of $500 each will be awarded to students with the best inventions in the following categories: Grades 1–2, grades 3–4 and grades 5–6. The teacher of each Grand Prize Student Winner will also receive a $100 gift card, plus a year's supply of U.S.A. Gold® pencils and other school supplies valued at $400.
Teachers must submit entries on behalf of their students using the entry form and invention worksheet, which can be found at http://www.scholastic.com/usagold. The contest site also offers teachers grade-appropriate activities incorporating fun, topics and classroom exercises. Though the contest encourages student creativity, they will not be judged on artistic ability.
Contest is open to students in grades 1–6 who are enrolled in public schools, accredited private schools, or home schools."