by Daniel Kalla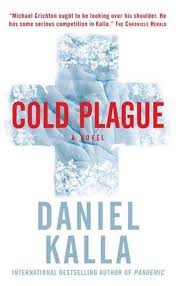 (very good; top 50% of SciThri)
Year published: 2006
Category: science thriller; series (#2)
Tech rating (out of 5):

SUMMARY:
A mad cow disease outbreak in France gets the attention of the World Health Organization. WHO's dogged investigator, Dr. Noah Haldane, suspects this deadly prion disease isn't spreading naturally. Through various plot twists, his investigation implicates a scheme to sell therapeutic water pumped from a gigantic freshwater lake buried deep under Antarctica.
REVIEW:
Author Daniel Kalla, an emergency-room physician with several commercially-successful novels under his belt, gives readers another dose of Dr. Noah Haldane in Cold Plague. The novel is set in France (lots of detail about rural life in France for you Francophiles out there) interspersed with scenes in Antarctica. Haldane, an American scientist working for the WHO, and his Scottish sidekick Duncan McLeod travel to France to investigate a very rapidly progressive form of a degenerative neurological disease caused by prions.
Haldane apparently has a highly developed power of intuition, as he continually suspects trouble in the face of reasonable explanations. Of course he's right. Laboring to find the truth he runs up against an unknown traitor in his organization, sexual tension with a coworker, and a global conspiracy. All the while he's juggling his partner's wife dying of cancer, his lonesome little girl back home with his lesbian ex-wife, and a relationship strangling from lack of face time with his girlfriend who happens to be the U.S. bioterrorism czar.
One of the best parts of this book is a subplot featuring a wonderful French-African female police detective, Avril Avars, whose son is kidnapped by the baddies when she gets too close to the truth. I'd love to see her as the star of her own mystery series.
Anything involving prions (infectious proteinaceous particles from the misty borderlands between life and nonlife; pronounced pree-ons) automatically wins points with me, but a major weakness of this novel is the weird chronology. In order to control when information is doled out to the reader, the author has scenes in the book constantly time travel from the present (usually in France) to the past (usually in Antarctica). I found this awkward and distracting.
Elements in this story: mad cow disease; prions; Creutzfeld-Jakob disease; WHO; Russian bad guys
For another novel about water-borne germs in the polar regions, read: Freezing Point by Karen Dionne.
Daniel Kalla's Noah Haldane series:
Pandemic (2005); Cold Plague (2006)