ScienceThrillers.com book review of Everest Rising by M.D. Kambic.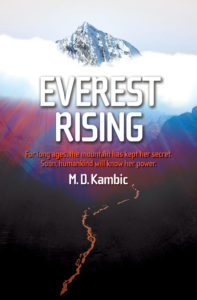 Tech rating (out of 5):

Publication date: November 5, 2016
Category: Science thriller / science fiction / metaphysical
Summary:
In Vancouver, an earth science firm announces the ability to replicate every known mineral on the planet.

In Switzerland, a seismologist notes a disconcerting anomaly seventy miles below the Earth's crust.

In Nepal, the world's highest mountain is growing.

Geophysicist James Von Kamburg leads a crack team of scientists to the Himalayas to decipher an escalating series of portentous signs: frozen glaciers are melting, plants spawn from rock, and leopards move in herds.

A mystical vision at a Buddhist monastery on the mountain forces Von Kamburg to consider science beyond anything imaginable, and to question the need for drastic action.

Jared Griffon, Von Kamburg's brilliant former student turned rival, arrives in Nepal with no such scruples.

Everest is rising.
A cataclysm begins.
ScienceThrillers review:
Everest Rising first came to me in the autumn of 2015, as a debut author submission to my publishing company ScienceThrillers Media. In his query letter, Matt Kambic revealed a plot element (that I will NOT spoil here) that hooked me into reading the manuscript. I found a text that sparkled with intelligence–I love Kambic's expansive vocabulary–and a strong sense of place with the setting in Nepal. The plot held together despite some weaknesses in the climax, but the book was riddled with rookie mistakes especially regarding point of view. I wrote up my critique and sent it to the author, along with a rejection. I thought that was the end of my part in this story.
Fast forward six months. Kambic not only listened to my comments, he set out to make himself a better writer. He returned to me a manuscript that had been transformed to a degree I'd never seen in a situation like this. After a few rounds of editing and back-and-forth discussion, we'd polished this debut novel to a professional level and I was proud to publish Everest Rising in November 2016.
Everest Rising is a highly original, genre-blending novel with both real science and speculative fiction elements. Kambic also steers the story into metaphysical questions and a profound ethical dilemma loosely tied to environmentalism. James Von Kamburg, an Oregon-based geologist, is afraid to father a child into a world of environmental decline. His lack of interest in their infertility is slowly pushing away his wife Maggie, an artist who occasionally experiences moments of special insight. Von Kamburg's reckless former student–and Maggie's former lover–Jared Griffon declares that he has found (and commercialized) the power to synthesize any mineral from cheap starting materials, and a skeptical Von Kamburg wants to believe that this seemingly impossible feat will benefit the planet. Meanwhile, a team of scientists (an amusing group of New Zealanders!) working in Nepal discovers that Mount Everest is rising–a lot, not the tiny amount expected from continental shifts. Eventually all the players end up in Nepal, where the entire natural world is being turned upside down, and Von Kamburg is faced with choices, any of which might lead to global cataclysm.
If you're intrigued by exotic locales and Buddhist mysticism, if you like suspense without car chases and gunfights, and you think science should not be separate from ethics, pick up a copy of Everest Rising by MD Kambic.
Find out what the author has to say about themes in his novel in this essay
Buy Everest Rising from publisher; amazon/Createspace; amazon/Kindle; Barnes & Noble; Apple
About the Author: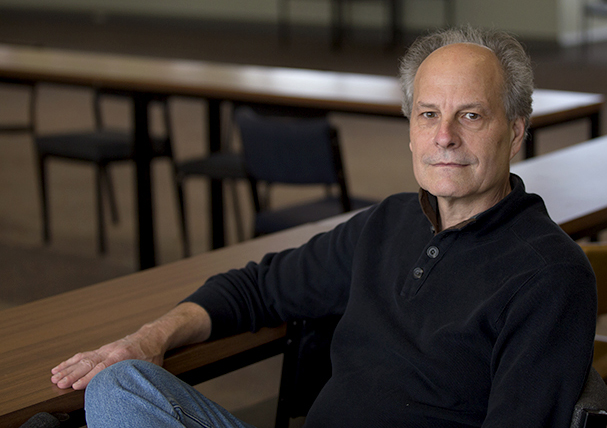 Matt Kambic hails originally from Pittsburgh, Pennsylvania. He currently resides in Middle Earth, a half-hour from Hobbiton in Hamilton, New Zealand.
Matt has served as a creative writer, content developer, art director, and executive producer for a portfolio of commercial and academic clients. His work has been featured on television (The Magic Woods), in Disney games (MathQuest with Aladdin), and as a gigantic mural of a WWII "Ghost Bomber" on the side of a Pittsburgh museum (The Heinz History Center). He has also done work for Carnegie Mellon University, Duquesne University, Robomatter, The National Robotics Engineering Center, Kennywood Amusement Park, The National Scenic Visitors Center, and Pittsburgh Filmmakers.
He is an accomplished illustrator and occasional musician.
Everest Rising is Matt's debut novel. He is currently at work on two novels, the science thriller Tacoma Narrows, and a fantasy, The Three Green Sisters.
Find out more about Matt at his website: www.mdkambic.com.