Independently published by Carlos Meza (no star rating given for indies)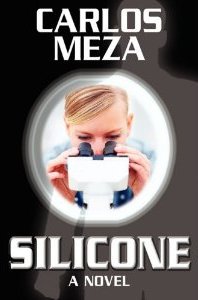 Summary: (medical thriller)  Dr. Jordan Hamilton is a brilliant immunologist at a major teaching hospital in Sacramento, California.  In a short span of time, Jordan encounters several female patients with strange, sometimes fatal allergy-like syndromes.  She connects the deaths to platinum contamination from the patients' breast implants.  Her efforts to study and expose the problem are thwarted by assorted villains, including a drug-abusing Beverly Hills plastic surgeon, a profiteering importer, and an evil Russian mafia gang.
Review:  Author Carlos Meza is himself a physician, and his debut novel set in an academic medical center (based on UC Davis) is full of accurate medical details.  More importantly, Silicone is an exciting, engaging story with a strong female protagonist who is likely to return in a sequel.  Silicone generally follows the standard expectations of the Cook/Palmer style medical thriller, with an unusual twist.  In most of these books, the heroine is completely cut off from her support systems.  This happens to Hamilton, but she retains some powerful friends in the media and government as she struggles to expose the medical risks posed by a batch of silicone breast implants.  But will they be enough to protect her and her young daughter from harm?
STRENGTHS:  Page-turning story with multiple subplots to keep the reader engaged.  Multiple villains and a non-medical storyline involving human trafficking also lend depth.  Unique local setting in Sacramento should appeal to readers who know the area.  Interesting themes including high-end cosmetic surgery, medical device regulation and imports, hospital politics and research funding, and platinum disease.
WEAKNESSES:  Some passages describing patient medical histories and medical procedures are technically accurate but most lay readers will likely skip over them.  Towards the end, a little too much of an agenda regarding the shortcomings of the FDA (Food & Drug Administration) in regulating medical devices and drug imports; though it's all true, the passages slow the narrative.  Commando-style actions at the climax are fun to read but not very believable.
Overall:  A high-quality indie medical thriller, at least as good as many traditionally published titles.  Fans of Michael Palmer should enjoy this book.