ScienceThrillers.com book review of Specimen stories by Irina Kovalyova.
Publication date: March 2016
Category: Science-themed literary fiction / short stories
Summary (from the publisher):
Inspired by a wide range influences — including early-twentieth century Russian avant-gardists, British science fiction and dystopian novels, as well as contemporary American novelists — Specimen is a highly original collection of stories that explore the place where physical reality collides with our spiritual and emotional lives.

In "Mamochka," nominated for the 2012 Journey Prize, an archivist at the Institute for Physics in Minsk, must come to terms with her daughter's marriage to a Chinese man in Vancouver. In "Peptide P," scientists study a disease of the heart that seems to affect children after they eat hotdogs. In "Side Effects," a woman's personality is altered by botox injections. In "Specimen" a teenage girl discovers that she was conceived using a sperm donor. In "The Big One," a woman and her daughter find themselves trapped in the rubble of an underground parking garage after an earthquake. In "The Blood Keeper," a novella, a young academic travels to North Korea to work on her dissertation and embarks on a dangerous affair.
ScienceThrillers review:
I write, publish, and review science-y thriller and suspense fiction. But I'm interested in any literature that has a science worldview or themes. Specimen is a wonderful example of this kind of book, sometimes called LabLit. Written by a working scientist who also holds an MFA degree, it's a collection of short stories plus one novella all written by Dr. Kovalyova. The stories are literary, artsy, sometimes beautiful, sometimes weird, and always intriguing. While not all of the stories are heavily or obviously science-themed, they all have science aspects and certainly a scientist's way of seeing things embedded in the text.
The collection has lots of variety, too. Kovalyova experiments with different story structures. In particular, science-y folks will love "Peptide P," a work of short fiction told entirely in the format of a scientific journal article. It's brilliant, original, and effective, and like all great short stories, throws a twist at the end. My second favorite story was "The Side Effects," a love story and psychological/medical suspense tale told from the point of view of a psych patient.
The final thing I'll mention is the stories also have a Russian/Eastern European influence. I'm not a literary scholar so I can't give you much more detail, but it's there in settings and tone.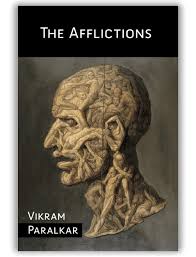 If you like Specimen, you might enjoy: The Afflictions by Vikram Paralkar
Support ScienceThrillers.com and the book's author: Click to buy Specimen from amazon.com