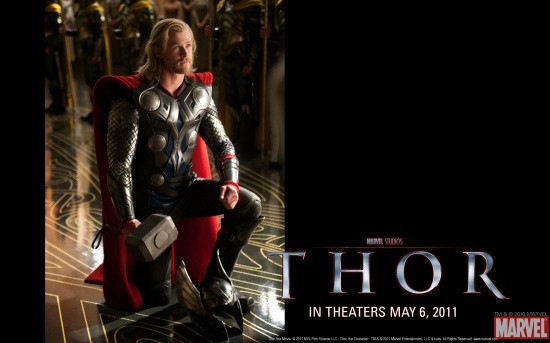 ScienceThrillers.com specializes in book reviews, but today I'm introducing my first movie review to the ScienceThrillers blog.  I'll occasionally review a movie that has both thriller-y and science-y elements, or is likely to appeal to the same people who enjoy reading science thrillers (using myself as the test audience, of course!).  Since I'm not a real movie critic, these reviews will be more endorsements than critiques.
Thor (2011) is an action-adventure-SF-fantasy sort of movie that fans of this type of film can't help but like.  It was directed by the famed Shakespearean actor Kenneth Branagh.  Don't look for deep character development or profound social themes (though that old Shakespearean theme, father vs son, rears its head), but expect an entertaining two hours.  Derivative?  Of course (story is based on ancient Norse myths and a Marvel comic).  Fun?  I sure thought so.
Starring Chris Hemsworth as Thor, Anthony Hopkins as his father Odin, and Natalie Portman as an Earthling astrophysicist & love interest.
The plot (IMDb tagline):  The powerful but arrogant warrior Thor is cast out of the fantastic realm of Asgard and sent to live amongst humans on Earth, where he soon becomes one of their finest defenders.
Here's what makes this movie worth seeing:
Stunning visuals, including a spectacular vision of Thor's home world Asgard (a little bit of both Avatar and Rivendell from Lord of the Rings)
Stunning visuals of Chris Hemsworth shirtless, or with his armor on and hammer in hand–both get my attention!
Good pacing, with action in all the right places
Several laugh out loud funny scenes, again in just the right places
Plenty of cartoony action violence, mayhem, and destruction but nothing gruesome, sadistic, or personal.  Go ahead and let your tween watch.
A bit of techno jargon tossed about to give the Portman character scientific street cred, but don't expect any real science elements here.
Thor is still showing in theaters.  Available in 3D (I saw the 3D version but don't think it added much to the picture.)