ScienceThrillers.com book review of The Demon Crown by James Rollins (Sigma Force # 13)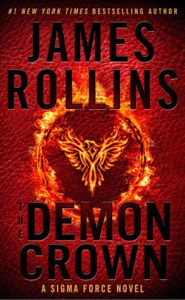 (extraordinary; top 10-15% of SciThri)
Tech rating (out of 5):

Publication date: December 2017
Category: Science thriller
An intro from the author:
TO SAVE MANKIND'S FUTURE, SIGMA FORCE MUST MAKE A DEVIL'S BARGAIN…

Just in time to tuck under the Christmas tree, the latest Sigma Force adventure—THE DEMON CROWN—hits bookstores this week. As an added bonus, a good chunk of the story takes place in Hawaii, so it's like getting a little island vacation to escape the winter blues—of course, it's a "Sigma Vacation," so don't expect to get too much rest and relaxation. In fact, to quote my editor, this novel is the most frightening story I've ever written. What's it about? To offer a few tantalizing clues, here are some of the questions that will be answered within the pages of THE DEMON CROWN:

—What truly killed the dinosaurs? (It's not what you think.)
—What biological threat keeps Homeland Security up at night?
—Why did the man who founded the Smithsonian Institution—James Smithson—never set foot in America? And a century later, why did the inventor Alexander Graham Bell sneak off to Europe under a cloak of secrecy to steal the founder's bones from an Italian graveyard?
—Finally, how close are we to discovering the secret of life after death? Or have we already discovered it?

And those are only a handful of the revelations you'll find in the latest adventure. I hope you all enjoy the mayhem to come.
ScienceThrillers review:
Rollins's editor was right. The Demon Crown, book #13 in his fantastic Sigma Force series, is indeed the most frightening Rollins book yet. Once again I had the privilege of reading an early copy and was dazzled by the author's imagination. Rollins finds the most fascinating bits of real history and science, such as the ones he describes above, and weaves them into pulse-pounding stories of action and adventure with lovable characters of both sexes. Travel to exotic places is part of the deal. In Demon Crown, I particularly loved the scenes near Hana, Maui, Hawaii, an area I'm fond of. I was captivated by the history and geography he uses in Eastern Europe. And Rollins introduces a new character whom I simply loved–a plucky librarian, you could say.
On top of all that, the author adds real science. The Demon Crown is loaded with science gems in its themes. As usual, Rollins takes those gems and stretches them into speculative fiction, and it's a heck of a lot of fun.
I'm posting the official book plot summary below for you, but really, all you need to know is this. If you are a science thriller fan who hasn't read James Rollins yet, do it. Now. If you are a fan of James Rollins, order this book. Now. Then curl up and enjoy.
Support ScienceThrillers.com and the book's author: Click to buy The Demon Crown from or amazon.com
Author's website: https://jamesrollins.com/
If you like The Demon Crown, you might enjoy Reversion by Amy Rogers
Summary (from the publisher):
Off the coast of Brazil, a team of scientists discovers a horror like no other, an island where all life has been eradicated, consumed and possessed by a species beyond imagination. Before they can report their discovery, a mysterious agency attacks the group, killing them all, save one, an entomologist, an expert on venomous creatures, Professor Ken Matsui from Cornell University.
Strangest of all, this inexplicable threat traces back to a terrifying secret buried a century ago beneath the National Mall: a cache of bones preserved in amber. The artifact was hidden away by a cabal of scientists—led by Alexander Graham Bell—to protect humankind. But they dared not destroy it, for the object also holds an astonishing promise for the future: the very secret of life after death.
Yet, nothing stays buried forever. An ancient horror—dormant in the marrow of those preserved bones—is free once more, nursed and developed into a weapon of incalculable strength and malignancy, ready to wreak havoc on an unsuspecting world.
To stop its spread, Commander Grayson Pierce of Sigma Force must survive a direct attack on the island of Maui. To be there first has always been the core mission of Sigma Force, a covert team forged to be America's front line against emerging threats. But this time, even Sigma may not be able to decipher this deadly mystery, one that traces back to the founding of the Smithsonian Institution.
With each new discovery, the menace they hunt is changing, growing, spreading—adapting and surviving every attempt to stop it from reconquering a world it once ruled. And each transformation makes it stronger . . . and smarter.
Running out of time and options, Commander Grayson Pierce will be forced to make an impossible choice. To eradicate this extinction-level threat and expose those involved, he will have to join forces with Sigma's greatest enemy—the newly resurrected Guild—even it if means sacrificing one of his own.