ScienceThrillers.com welcomes author Jenifer Ruff, a science thriller writer who uses her epidemiology credentials to create a ripped-from-the-headlines bioterror novel called Only Wrong Once.
---
Only Wrong Once by Jenifer Ruff. Science / bioterror thriller. (September 2017)
A sinister experiment outside Aleppo.

Two mysterious deaths: one in LA, one in Boston, each with the same horrific symptoms.

A powerful ISIS leader chooses an American-born microbiologist from the University of Damascus and manipulates him into doing the unthinkable: weaponize a deadly virus and recruit American citizens to disperse the disease.

In Charlotte, a lonely banker desperate for a more meaningful life receives increasingly urgent requests of Come Visit from his cousin in Syria. After losing his job and traveling overseas, will he become a willing participant in the inevitable terrorist plot?

In Los Angeles, FBI counterterrorism agent Quinn Traynor and his team receive a call from CDC agent, Madeline Hamilton. She's discovered the first victim of a lethal, unfamiliar virus. Their joint investigation uncovers evidence of the imminent bio-terror attack and their only hope is to identify the terrorists carrying the disease. With just two days remaining before it's too late, the FBI and the CDC race to prevent a pandemic. The ensuing nightmare will hit closer to home than they ever anticipated and one of them will pay an unimaginable price for protecting the country.

From secret jihadist bunkers in Syria to the city streets of Los Angeles, Boston, and Charlotte, Only Wrong Once is a chilling, internationally relevant suspense novel that will leave you reeling from the too-real prospect of a global terrorism nightmare.
Support ScienceThrillers.com and the author by ordering Only Wrong Once at amazon.com
---
Twisted science innovation makes for thrilling fiction
Guest post by Jenifer Ruff
For most of us, the allure of science is not in the realistic daily grind of repeated experiments and the tiny increments of learning that occur after countless hours in a lab. The attraction is in the ground-breaking innovations that change lives and essentially allow us to better control our environment. A riveting science-based novel incorporates elements of scientific foundations, but includes a fantastic yet feasible leap of knowledge. The thrillers that have kept me on the edge of my seat have taken that leap of innovation and placed it in the hands of dark and twisted minds. The suspense occurs with the threat of impending chaos, a result of sinister motivations. Is it inevitable? Can it be stopped? The excitement comes with an extreme juxtaposition to the socially acceptable uses of science and medicine. But I don't feel guilty, it's fun to be nervous and wary within the context of reading fiction.
In Only Wrong Once, my newest novel, a virologist is recruited and brainwashed by ISIS to weaponize a hemorrhagic fever by crossing its molecular structure with the common cold virus. Once the CDC and FBI discover the first victim, the race is on to prevent a pandemic.  In hindsight, the concept was sparked years ago, when I was a graduate student in Epidemiology and Public Health at Yale Medical School. One of the top floors of the building held a secure and restricted room for advanced research. The lab inside was rumored to hold the most dangerous of diseases, including bubonic plague, polio, and hemorrhagic fevers. I remember people actually whispering out of reverence when talking about it. Studying those samples required extreme precautions, including personal protective gear. My work never took me inside that room, but just knowing those samples existed, supposedly, so close to our day-to-day classrooms, always struck me as wildly disturbing and fascinating. The ominous possibilities . . .
In my novels Everett and Rothaker, a tenacious and dedicated medical student is also a psychopath who repeatedly takes her passion for scientific exploration to the dark side. Her scientific "exploits" and her justification for them are as fascinating as they are horrific.
Sometimes I question why I repeatedly come up with dark and disturbing uses of science and medicine, but then I remember that millions of readers enjoy the edgy thrill ride that comes with contemplating the unthinkable.
---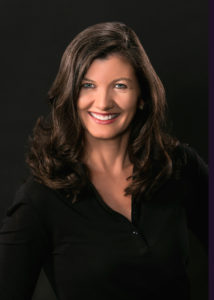 About the Author Jenifer Ruff:
I grew up in Northampton, Massachusetts, a charming college-town, and earned science degrees from Mount Holyoke College and Yale University.   As the daughter of a library director, I've been devouring stacks of books since before I could walk. On my own, I always go for thrillers and mysteries, but as a result of two book clubs and recommendations from friends, I enjoy books from every genre.  I live in Charlotte, North Carolina, with my husband, three sons, and our greyhounds.
Author's website: jenruff.com