ScienceThrillers.com welcomes award-winning author and chemist Dave Edlund, whose latest Peter Savage thriller Deadly Savage invokes the great historic scourge of smallpox.
---
Deadly Savage by Dave Edlund. Action/ international political / bioterror thriller. (April 2016)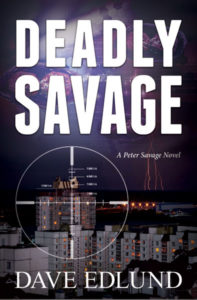 When militants invade the Belarusian State University in Minsk, Peter and his father are caught in the crossfire. Held hostage by gunmen who look suspiciously like Russian soldiers, Peter Savage uncovers a deadly plot to kill thousands of innocent civilians—and lay the blame at the feet of the United States government. In a desperate attempt to avoid a global war, Commander James Nicolaou and Peter are called to the front lines of the sinister campaign, and the stakes have never been higher.
Support ScienceThrillers.com and the author by ordering Deadly Savage at amazon.com
---
What if…smallpox?
Guest post by Dave Edlund
Deadly Savage is an action-political thriller with a large dose of science. The plot, which unfolds mostly in Minsk, Belarus, envisions an audacious plot to weaken NATO. The key is weaponized smallpox virus.
The history of smallpox is fascinating, albeit devilish at times (e.g., campaign of genocide against Native Americans). Until 1973, schoolchildren in the U.S. routinely received smallpox vaccinations. The last reported case of naturally occurring smallpox was in 1977, and on May 8, 1980, the World Health Organization proclaimed the virus to be eradicated globally. But during the Cold War, the U.S. and Russia developed highly contagious and lethal strains of smallpox, as well as the technology to weaponize the virus, in the lab.
To this day, viable samples of smallpox are kept at two locations—one is the Centers for Disease Control and Prevention in Atlanta, and the other is the Vector Research Center in Koltsovo, Siberia. However, a shocking discovery on July 1, 2014, refutes this official position. Six glass vials dated to 1954 containing smallpox were discovered in a cardboard box in an unsecured FDA laboratory in Bethesda, Maryland, on the campus of the National Institutes of Health. Even after 60 years, the virus in two of the vials was still viable and capable of causing infection. How many other samples are out there, unaccounted for? And given that the Soviets were manufacturing 20 tons of weaponized virus annually in the mid-70s, how certain can anyone be that it was all destroyed? Troubling questions, given that our youngest generations have never been vaccinated against smallpox, and those who did receive vaccine in the 60s and 70s have a compromised measure of protection. Modern populations have never been more vulnerable to this terrifying weapon.
In Deadly Savage, the protagonist, Peter Savage, finds himself besieged by pro-Russian militia within a science building on the campus of the prestigious Belarussian State University. Peter is a chemist by education and he's an inventor, quite comfortable tinkering with a variety of hardware. In short order, he makes his way to the chemistry storeroom where he assembles some offensive weapons—but perhaps not what you're imagining. I stayed away from explosives (too obvious) for a few reasons, not the least of which are time and reliability. As a chemist myself, I know that making effective explosives takes time—something my main character doesn't have.
Eventually, Peter finds an aerosol device for dispersing the virus, and he is challenged to arrive at a method of rendering it inoperative. Again, the most obvious methods must be avoided since the case is thought to be booby-trapped—it cannot be touched, moved, incinerated, or blown up. He draws on his knowledge of physics and his manual assembly skills as an inventor to derive an ingenious solution.
But who is making these aerosol-dispersion machines to spread smallpox virus? Hard data is required. Once again, the campus science building provides a necessary tool in the form of an electron microscope. A rigorous analysis of trace particles from a deactivated aerosol machine—mostly dust and pollen—provides invaluable clues. With this fingerprint, the U.S. government is ready to present their case to the United Nations. However, condemnation is not sufficient to ensure the deadly virus will never be used again.
But what is? The answer may be more terrifying than the virus.
Deadly Savage is available wherever books are sold, including Amazon, Kobo, Barnes & Noble, and iTunes. You will find links to purchase, reviews, and sample chapters here www.PeterSavageNovels.com
---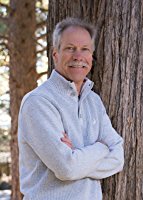 About the Author Dave Edlund:
A member of the International Thriller Writers, Dave Edlund writes action-political thrillers often compared to the Dirk Pitt novels by Clive Cussler, the Sigma Series novels by James Rollins, and the Jack Ryan novels by Tom Clancy. His current release, "Hunting Savage", is "…required reading for any thriller aficionado", Steve Berry, author of "The 14th Colony", New York Times and #1 International bestselling author.
Edlund's award-winning debut, "Crossing Savage", was followed by "Relentless Savage" and the critically acclaimed "Deadly Savage". He lives with his family and four dogs in Central Oregon. A graduate of the University of Oregon (Ph.D. in chemistry), he has dedicated his professional career to developing new technology to support the hydrogen economy. "I strive to bring cutting-edge science and technology into my stories, and then to extrapolate that innovation beyond what is presently known, but is plausible," Edlund explains. An avid outdoorsman, you are likely to find the author in the deep woods far away from other people when he is not writing. To connect with Dave Edlund or to request a Skype visit, contact him at dedlund@lightmessages.com